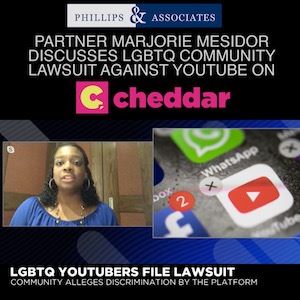 Recently, the LGBTQ community sued YouTube, alleging that their content was flagged in a way in which other content was not flagged. The complaint alleges that YouTube automatically redflags videos as adult content whenever the content involves gay, bisexual, or transgender topics. Sexual orientation discrimination and gender discrimination are illegal in the workplace and in public accommodations in New York City. Phillips & Associates partner Marjorie Mesidor recently spoke to Cheddar News about the LGBTQ community lawsuit against YouTube.
Marjorie Mesidor Appears on Cheddar News to Discuss LGBTQ Community Lawsuit Against YouTube
Cheddar News asked Ms. Mesidor to elaborate on the basis for the lawsuit against YouTube. Ms. Mesidor explained that the LGBTQ community is indicating that their content has been reflagged by algorithms in a way in which other content is not flagged. Once YouTube sees key words related to sexual orientation, the video is reflagged as adult content and given a special category. This makes it difficult to monetize or get advertising or sponsorship for these videos because the content is restricted. Only a certain age group can see the content.
The content's access is limited for audiences worldwide, even though much of the content does not actually fit the description of mature or adult content. The community believes that this restriction on access demonizes their content as inappropriate and marks it as separate.
In support of this, they point to the different way in which YouTube responds to conservative political comments, including homophobic slurs and hate speech that is in violation of YouTube policies and procedures. These actions allegedly are discriminatory not only because of how the algorithm uses the content but also because YouTube does not systematically prevent, condone, or suspend other users' content when it is homophobic and discriminatory toward the community.
Cheddar News asked if there was any favorable precedent that could help the LGBTQ community. Ms. Mesidor responded that even though the law is progressive in this area, it has not caught up to this type of circumstance in which a major platform is sued in a class action for the way in which its algorithm operates or for how it fails to adequately regulate content on the site. Instead, there are ordinary protections under the law that show that people who identify as LGBTQ or produce LGBTQ content should be treated with the same level of decency and professionalism with regard to their access to the public and advertisers as other content users are. There is no precedent on point in this regard.
Cheddar News pointed out that the lawsuit is occurring at a time when platforms face enhanced scrutiny from multiple different groups. For example, conservatives have argued that the parent company of YouTube, Google, is biased against them. Cheddar News asked how a judge would determine whether that type of argument had merit. Ms. Mesidor responded that the court would need to compare the treatment of different groups to figure out if there was disparate treatment, such as a difference in how content is regulated for someone who does not identify as LGBTQ as opposed to how content is regulated for someone who does.
She noted that many popular LGBTQ videos simply provide education on what it means to be transgender or how to come out, and it would be unfair to immediately place a video in a mature category as soon as someone says the word "gay" or "transgender." There are also videos used to teach children about different families, such as families in which there are two mothers or two fathers. When such a video is automatically flagged, it is not accessible to its audience of children.
Discuss a Legal Issue with an Experienced Sexual Orientation Discrimination Attorney
Sexual orientation discrimination in the workplace or in a public accommodation can be emotionally traumatizing. If you believe that you were subjected to sexual orientation discrimination in New York City or the surrounding areas, you should discuss your situation with an attorney at Phillips & Associates. Call us at (866) 229-9441 or contact us through our online form. Our firm represents people in discrimination cases in Brooklyn, Manhattan, Queens, the Bronx, and Staten Island, as well as in Westchester, Nassau, and Suffolk Counties and in New Jersey and Pennsylvania.