Profile of Phillips & Associates Partner Marjorie Mesidor Published in Business Beyond
In its Summer 2021 issue, Business Beyond profiled seasoned New York City employment discrimination lawyer Marjorie Mesidor with a feature on the cover. Entitled "Leveling the Playing Field: Leading the Fight Against Workplace Discrimination", the article highlighted Ms. Mesidor's many accolades and recognitions in many different publications. Dedicated to fighting for New York City workers and eradicating discrimination in the workplace alongside her colleagues, she is a valued partner at Phillips and Associates.
Our Firm May Be Able to Represent You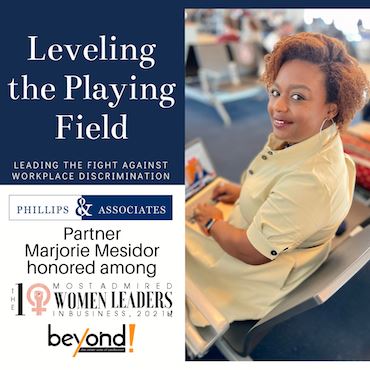 As the profile explains, Ms. Mesidor was born to immigrant parents. Several life experiences have made her sensitive to those who are bullied or mistreated based on aspects of their identity. She was one of the few black students at her school and the target of race discrimination, which she had to fight alone. When she was thirteen, she witnessed a store associate being rude to her mother. The associate claimed she couldn't understand what Ms. Mesidor's mother was saying. The memory of this indignity based on her mother's national origin lingered with Marjorie Mesidor, who later became a partner fight discrimination at Phillips and Associates.
Ms. Mesidor has dedicated her life to radically altering the lives of those who have been harmed by employment discrimination and sexual harassment. She has been admitted to practice by the New York Bar and the Connecticut Bar. She is also admitted to practice in multiple federal district and appellate courts. With our firm, she pursues damages for wronged employees under numerous laws, including federal Title VII of the Civil Rights Act, the Americans with Disabilities Act, the New York State Human Rights Law, and the New York City Human Rights Law.
Workplace Discrimination
As she explained to the magazine, Ms. Mesidor regularly pursues employment lawsuits against Fortune 500 companies and smaller businesses accused of discrimination. While larger companies may be covered by federal antidiscrimination laws, such as Title VII, which prohibits discrimination based on race, sex, color, religion and national origin, federal antidiscrimination laws cap damages and tend to incorporate more restrictive standards that make it difficult to recover your full damages.
Ms. Mesidor handles associate development at the firm. The three qualities that she believes keep her strong are:
Her advice to law students is:
Learn your craft
Pick what you like and get really good at it
Stay teachable.
While there is still more she hopes to achieve, her clients and their bravery inspire her every day.
Honors
Among Ms. Mesidor's more recent awards and distinctions are a Service to the Bar Award and an Exceptional Service to the Public Award. Every year since 2013, she has been recognized as a Top Woman Attorney by New York Super Lawyers and a National Black Lawyers' Top 100 Black Lawyers.
Marjorie Mesidor's Noteworthy Employment Discrimination Cases
As the profile illuminates, Ms. Mesidor is a formidable opponent in the courtroom. She has handled noteworthy employment discrimination cases. In 2013, she represented clients in a major lawsuit that settled the question of whether those from the same race as their employees could discriminate against those employees. The jury award was unanimous. She has also won a $2.3 million award for a hostile work environment claim arising out of race and national origin harassment. Her accomplishments extend beyond the courtroom, as well. She has been a consistent legal education panelist for the National Bar Association's Labor and Employment section and NELA/NY.
Employment Discrimination Laws That May Apply to Your Case
Ms. Mesidor's keeps up with the law so she can be a forceful and effective advocate for her clients. There have been amendments to the New York State Human Rights Law that are favorable to employees who have been harmed by their employers' discriminatory conduct. The state law protects:
Race
Age
Color
Creed
Sexual orientation
Sex
Gender identity or expression
National origin
Marital status
Disability
Military status.
It applies to every workplace in New York, even those with only one employee.
Ms. Matador has also pursued cases under the New York City Human Rights Law, which protects a broad range of characteristics. However, the city law only applies when a company has at least four employees.
Hire Phillips & Associates to Represent You Against Your Employer
Ms. Mesidor believes that success would not be possible without the great legal team at Phillips & Associates. We represent workers in Manhattan, Brooklyn, the Bronx, Queens, Staten Island, Suffolk County, and Nassau County. Call us at (866) 229-9441 or complete our online form.