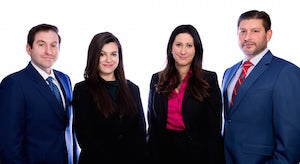 Phillips & Associates is pleased to welcome New York City employment attorney Bryan Arce and his distinguished legal team, which includes Silvia Stanciu, Gregory Kirschenbaum, and Iris Ramirez. We know that Mr. Arce and his team will provide outstanding service to workers and employees who need a sexual harassment attorney or representation in bringing an employment discrimination or retaliation claim, among other employment matters.
Mr. Arce and his team are experienced trial attorneys who have won verdicts of $4.25 million and $2.5 million, among many other verdicts in the millions of dollars, for their clients. Prior to becoming a litigator, Mr. Arce worked in the hospitality industry and witnessed numerous employment law violations, which has fostered a sense of empathy for employees.
Ms. Stanciu, and Mr. Kirschenbaum are skillful trial lawyers in their own right. They have longstanding interests in workers' rights and a desire to make a positive impact on their clients' lives. Mr. Kirschenbaum has also garnered many six-figure settlements as well as a $2.2M race and retaliation verdict. Ms. Ramirez is a dedicated and experienced paralegal who is integral to the firm and whose first-hand knowledge of several different industries allows her to relate easily to all of our clients.
All workplaces should be free from employment discrimination and harassment. To that end, federal, state, and local laws have been passed to prohibit discrimination in the workplace. The most famous anti-discrimination law is Title VII, a federal law that prohibits discrimination on the basis of national origin, race, color, sex, or religion when a private sector employer has 15 or more employees. Title VII also applies to federal, state, and local governments, as well as employment agencies and labor organizations.
Another notable federal anti-discrimination law is the Americans with Disabilities Act (ADA), which prohibits discrimination against applicants and employees with disabilities, as defined by the statute. The ADA also requires employers to provide reasonable accommodations unless doing so would pose an undue hardship. There are three types of reasonable accommodations: modifications to a job application process to permit a qualified disabled applicant to be considered for a job, modifications to the work environment or to how the job is customarily performed that allow a qualified disabled worker to perform the essential tasks of the job, and modifications that allow the employee to have the same privileges and benefits of employment as employees in the same position who do not have a disability. An accommodation does not automatically present an undue hardship if it may cost the employer a modest amount to provide it.
Title VII was amended by the Pregnancy Discrimination Act, which prohibits employers from discriminating on the basis of childbirth, pregnancy, and related medical conditions. This means that if you are pregnant or experience a pregnancy-related medical condition, you must still be treated in the same way as other job applicants and employees with similar limitations or abilities.
New York state and local laws may provide even more protections against pregnancy- and disability-based discrimination, as well as other unlawful conduct. Under the New York Human Rights Law, employers in this state must provide reasonable accommodations for pregnancy-related medical conditions. Pregnancy is also considered familial status discrimination in New York.
If you have been subjected to unlawful discrimination in the workplace, we are confident that Bryan Arce, Silvia Stanciu, Gregory Kirschenbaum, and Iris Ramirez can give you the same forceful and experienced counsel and representation that our firm has a proud history of providing.