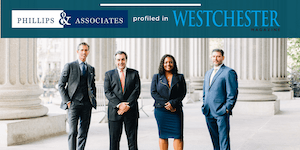 Recently, the law firm of Phillips & Associates received a profile in Westchester Magazine. The magazine described the firm as the "go-to law firm in New York for victims of sexual harassment and discrimination." If you were a victim of employment discrimination or sexual harassment in a Westchester workplace, you should call the Westchester County employment lawyers at Phillips & Associates.
Phillips & Associates is a law firm that focuses on workplace discrimination law. Its attorneys have secured more than $100 million in settlements and verdicts for victims of discrimination over the last seven years. Most verdicts and settlements involve single plaintiffs, rather than class actions, civil rights cases, or personal injury lawsuits. Our firm has many attorneys with the experience to handle a case in which a substantial amount of damages is at stake.
Protections Against Employment Discrimination
Employment discrimination is prohibited under several federal laws, including Title VII of the Civil Rights Act of 1964, the Americans with Disabilities Act (ADA), and the Age Discrimination in Employment Act (ADEA). Title VII prohibits workplace discrimination on the basis of race, color, national origin, religion, and sex. The ADA prohibits workplace discrimination on the basis of a disability or a perceived disability. The ADEA prohibits discrimination on the basis of age if an employee's age is 40 or older. Harassment is considered a form of discrimination. Thus, these laws also protect employees against harassment based on any of these characteristics.
Many of the federal laws are enforced by the Equal Employment Opportunity Commission (EEOC). This means that an employee will need to file a charge with the EEOC before they can bring a lawsuit in federal court. There are caps on damages under the federal anti-discrimination laws enforced by the EEOC. These laws only cover midsize to large employers, so if you work for a small employer, you cannot pursue damages under the federal laws and will need to turn to state or local laws. The New York State Human Rights Law prohibits employment discrimination and workplace harassment regarding a greater range of protected characteristics than federal laws cover.
If you establish liability for employment discrimination, you may be able to obtain damages such as out-of-pocket costs, mental anguish, back pay, and front pay. Out-of-pocket costs could include, for example, the costs of doing a job search. You may be able to recover punitive damages as well if your employer perpetrated a particularly malicious discriminatory act. In some cases, a non-monetary remedy may be available, such as ordering the employer to revise its policies or reinstate an employee. Sexual Harassment
Sexual harassment is a type of sex discrimination. It may involve remarks, innuendoes, pranks, jokes, touching, physical assault, and more. It can take the form of quid pro quo harassment or hostile work environment harassment. Quid pro quo harassment conditions continued employment on submitting to sexual advances. For example, if your boss tells you that you need to go on a date with him or you will be terminated, this is quid pro quo harassment. Hostile work environment harassment exists if the harassment is so severe or so pervasive that it changes the terms and conditions of employment. Unlike quid pro quo harassment, which can only be perpetrated by supervisors and managers, hostile work environment harassment can be perpetrated by coworkers, clients, and customers, in addition to supervisors and managers. If you face daily sexual remarks from your coworkers, and they touch you inappropriately at the holiday party, for example, you may be able to recover damages for hostile work environment harassment.
Contact an Employment Litigation Attorney
If you were harmed due to employment discrimination or sexual harassment at a workplace in Westchester County, you should explore your options with the attorneys at Phillips & Associates. We represent employees from our local office in Yonkers. Call us at (866) 229-9441 or contact us through our online form for a free consultation. We will not ask you to pay any fees unless we recover damages on your behalf.