Employment Litigators Based in New York City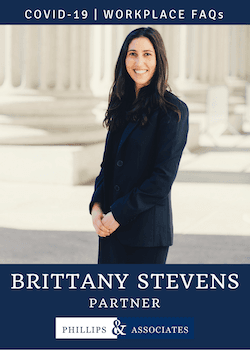 Companies have had to transform their workspaces during the COVID-19 pandemic. Employers are supposed to take steps to guard the safety and health of employees. Although employers are required to make adjustments, employees may still find getting to an office or another workplace challenging. Employers do not have control over the employee's commute. If you are worried about catching COVID-19 on your commute to work, and you need to continue to work from home as a reasonable accommodation for your disability, you should consult the New York City employment lawyers at Phillips & Associates. It is important to retain attorneys who understand the nuances of local, state, and federal laws as they may apply to your case, especially since legal requirements related to COVID-19 have not been developed through case law or guidance over a long time.
If I Am Worried About Catching COVID-19 on My Commute to Work. Can I Insist on Working From Home?
COVID-19 spreads more easily indoors because the airflow is limited. As workplaces reopen, many employers will need to open their businesses with reduced capacity and rotating shifts to allow for social distancing. Workers may need to adjust how they get to work as well. Generally, it is unsafe to crowd into trains or wait together in big groups at stations during COVID-19.
Various governmental agencies have advised against non-essential use of public transportation during the pandemic. It may be unsafe, for example, to take the subway from one of the boroughs into Manhattan.
There are situations in which a worker can simply shift to biking or driving to work, rather than taking public transportation. However, you may not have alternative forms of transportation. And your employer cannot make sure that other commuters are wearing masks or enforce other safety rules that it must enforce in the workplace.
Reasonable Accommodations
There is no general right to work from home. However, working from home may be requested as a reasonable accommodation based on a disability or religious practice. Your employer has legal responsibilities to workers with disabilities who are at risk of severe illness if they contract COVID-19. If you are concerned about catching COVID-19 on your commute to work because you have an underlying medical condition or disability, you may be able to ask for the reasonable accommodation of teleworking to avoid your commute.
The federal Americans With Disabilities Act (ADA), the New York State Human Rights Law, and the New York City Human Rights Law require employers to provide reasonable accommodations to employees with "disabilities" as these are defined in the various relevant statutes.
Reasonable accommodations are any changes to the workplace or work policies that would allow a worker to continue working. The ADA definition of a disability is a more restrictive definition than the definition under the city law. Under the ADA, your employer must make reasonable accommodations to enable you to satisfy the essential prerequisites of the job if it knows about your disability. However, your employer can raise as an affirmative defense that you cannot perform the essential prerequisites of the job even when you are given a reasonable accommodation.
Under the state law, a disability is a medical, mental, or physical impairment arising out of physiological, genetic, anatomical, or neurological conditions that stop the exercise of ordinary bodily functions or can be shown through medically accepted lab or clinical diagnostic techniques.
Under the city law, a disability is any medical, physical, psychological, or mental impairment, or a history or record of it. Impairments may count if they affect any system of the body, including the respiratory system or the immunological system.
Generally, an employer must engage in a process with an employee who requests an accommodation due to a disability. The employer may ask questions about the disability to determine what an appropriate accommodation would be. The employer may ask you questions about your commute to determine whether working from home is the least restrictive accommodation that could be provided. You are not necessarily entitled to the accommodation that you request. Your employer may fashion a different accommodation that would suit its own needs better, as long as it allows you to do your job with a disability as well.
Retain a Seasoned Employment Litigation Attorney
If you want to know whether you can work from home due to COVID-19 concerns, you should call us. One of our experienced trial attorneys may be able to advise you. Phillips & Associates assists clients in Brooklyn, Manhattan, Queens, Staten Island, the Bronx, and Nassau, Suffolk, and Westchester Counties, as well as New Jersey, Pennsylvania, and Florida. Call us at (866) 229-9441 or complete our online form.