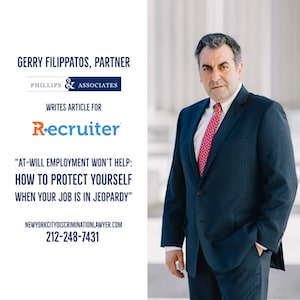 No employee can be 100% secure at work, particularly in jurisdictions that strongly favor employment at will. Under the at will doctrine, if an employee does not have a written employment contract, and the term of employment does not have a definite end date, the employer is allowed to terminate the employee without cause. A Westchester County employment lawyer at Phillips & Associates, Parisis G. Filippatos, recently wrote an article about how to protect yourself against the application of the employment at will doctrine in New York, New Jersey, Connecticut, and Pennsylvania. The article appears in Recruiter.com.
What is the Employment At Will Doctrine?
Mr. Parisis explained that if you do not have an implied or written employment contract, you may be terminated from your employment for an arbitrary reason or without a reason.
Exceptions to Employment at Will
There are various exceptions to at-will employment in some states. If your employment is based on a written contract that sets forth particular provisions related to employment, the contract should be honored. If you are terminated in violation of a term or condition of your contract, you can sue your employer for a contractual breach. Sometimes employment contracts specify that an employee may only be terminated for good cause.
Another exception to at-will employment occurs in the context of unions. People who belong to a labor union may be protected by a collective bargaining agreement. The agreement may specify that their employment cannot be terminated without giving them access to a grievance procedure.
Public employment may provide another exception to a general rule of at-will employment. If you work for the government, you will be protected by laws that restrict termination without due process.
There are also common law exceptions to the at-will doctrine in some states. For example, exceptions may exist in connection with a termination for a reason that violates public policy or a termination in violation of an implied contract for employment that has created a reasonable expectation of continued employment.
Mr. Parisis noted that each state handles the at-will doctrine differently. New Jersey, Connecticut, and Pennsylvania allow for public policy exceptions to the application of the at-will doctrine. New York does not allow for public policy exceptions. However, New York, New Jersey, and Connecticut may enforce an implied employment contract under specific circumstances, whereas Pennsylvania will not.
What Can You Do to Protect Yourself as an At-Will Employee?
Mr. Parisis recommends that you stay aware of your environment, know your statutory rights, and document your workplace concerns. It is important to understand whether you are an at-will employee, or whether your employment is covered by a contract or implied contract.
You should also be aware of whether you have a protected characteristic that the law prohibits as a reason for termination. Protected characteristics are usually immutable. For example, in New York, protected characteristics include sex, race, gender identity, ethnicity, national origin, pregnancy, leave status, and sexual orientation.
Our attorney recommended considering whether you are being mistreated on the job due to having a protected characteristic. If you are being mistreated, you should let HR know as soon as you can. It is important to provide specific reasons why you believe that you are being mistreated.
Anti-discrimination laws, such as the anti-discrimination law in New York, protect employees against retaliation. Your employer is not allowed to retaliate against you because you complained about discrimination in good faith. If you have a reasonable belief that you are facing discrimination based on a protected characteristic, and you complain about it in writing to HR, your job is likely to be protected for 3-6 months. It is presumed under the law that adverse employment actions taken against an employee shortly after the employee complains of discrimination are retaliatory, even if it is determined that your underlying claim of discrimination was reasonable but unfounded.
Consult an Experienced Employment Attorney
If you believe that your job is in jeopardy in an at-will jurisdiction due to discrimination or a breach of a contract, you should consult the experienced employment attorneys at Phillips & Associates. Call us at (866) 229-9441 or contact us through our online form. We represent clients in Westchester County as well as New York City, Long Island, Pennsylvania, and New Jersey.