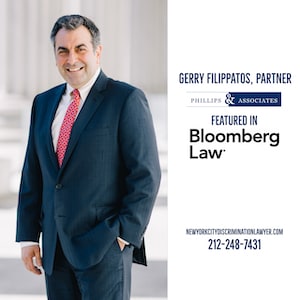 One of our Westchester County employment attorneys, Parisis G. Filippatos, recently joined a group of other attorneys who spoke to Bloomberg Law about how clergy sex abuse cases are parallel to doctor assault lawsuits. The Catholic Church has provided settlements to resolve accusations that it ignored decades of clergy sexual abuse. Attorneys who represent sexual harassment and abuse victims explained that the practice by Catholic dioceses of setting up funds to be distributed to abuse victims by a special master or neutral mediator has translated effectively to the health care setting.
When a fund is set up, it ensures that victims are fairly compensated. Like the Catholic dioceses, health care providers need a creative solution to prevent an explosion of damages awards. There are many doctor assault lawsuits being filed in California, New York, and Michigan. Many victims have been emboldened by the #MeToo movement, and they have come forward with stories of abuse during medical exams or treatment.
Common Fund Settlements
The article explained that Michigan State University has already used a common fund approach to address claims by female gymnasts that they were sexually abused during exams by Dr. Nassar. The university created a $500 million fund, which includes $425 million for identified victims and $75 million to be held in trust for women who will later come forward. The fund is being distributed by an independent mediator.
It is believed that this approach may be appropriate for other doctor abuse lawsuits too. It would allow people who were sexually abused by doctors to apply to a special master or mediator for damages. The awards in the New York clergy abuse cases ranged from $25,000-$500,000 per person, depending on how long the person was abused and how much harm was suffered. Offers by mediators are supposed to be transparent, consistent, and fair.
Our attorney, Parisis Filippatos, provided a comment to Bloomberg Law. He handles workplace discrimination lawsuits and emphasizes lawsuits that hinge on gender discrimination and sexual harassment. He believes that a system-wide resolution is sensible when potential liability is extremely high. The greater a defendant's exposure, the more likely it is that the case will resolve in a settlement that applies to a large pool of claimants.
Currently, it is unknown how much a health care provider will need to pay to settle a doctor assault lawsuit. Some attorneys have found grossly inadequate a $215 million settlement to pay hundreds of women supposedly abused by a USC doctor. One of Gloria Allred's clients believes that the sum makes a mockery of the doctor's victims, since the proposal would give each woman only $2,500. However, women who can give more details about their experience could receive up to $250,000 under the proposal's terms.
There are many similar doctor assault lawsuits moving through the courts. In New York state court, 18 women have accused Columbia University and others of failing to act against Dr. Robert Hadden. They claim that Dr. Hadden molested, harassed, abused, and exploited women over a period of two decades. He has already been convicted on criminal charges.
There is a pending California federal court case against Huntington Memorial Hospital that accuses the hospital of allowing Dr. Patrick Sutton, another doctor who engaged in inappropriate conduct, to continue practicing.
Proactive Measures
It is hoped that cases will resolve not only with money but also with promises to implement proactive measures to stop abuse. The goal is that settlement agreements will incorporate new policies and procedures, such as a requirement that a third party be in the room to observe a doctor's conduct.
For example, USC told the victims of a doctor that alterations had been made to the student health system. A new unit was created to take hold of complaint monitoring and investigation. Generally, all providers should offer to do the right thing before litigation proceeds too far. An early, fair settlement can reduce costs and bad publicity.
Consult an Experienced Litigator
Sexual harassment and assault are serious and disturbingly common experiences. If you have been a victim of a doctor assault in Westchester County, call Phillips & Associates at (866) 229-9441 or contact us through our online form. We also represent clients in New York City, Long Island, New Jersey, and Pennsylvania.