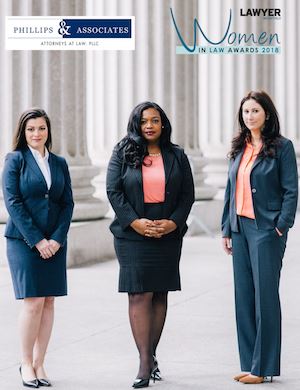 Marjorie Mesidor and Silvia Stanciu are employment attorneys at the law firm of Phillips & Associates. They were recently recognized with a 2018 Women in Law award from Lawyer Monthly for their outstanding legal representation of clients victimized by sexual harassment and discrimination based on race, gender, disability, and other protected categories.
Like other industries, the legal sector has been male-dominated, and gender inequality can make it particularly challenging for female lawyers to advance. Lawyer Monthly Women in Law awards celebrate high achievements by women in the legal profession around the world. They reward female legal experts who have overcome challenges and influenced the legal profession within their part of the world.
Ms. Mesidor, a partner at Phillips & Associates, has had tremendous success in her employment actions against businesses of all sizes. She regularly represents workers who need to sue small companies as well as Fortune 500 companies for discrimination or harassment. In the seminal case of Johnson v. STRIVE, she received a unanimous jury award and established that people of the same race can discriminate against each other.
Ms. Mesidor has more than 13 years of experience in both federal and state courts. At the start of her career, she clerked for the Honorable Torkwasé Y. Sekou in the Superior Court of New Jersey. Before joining our firm, Ms. Mesidor served as Chief Counsel to Project Hope and handled complex litigation in many practice areas.
The 2018 Woman in Law award is just the latest of Ms. Mesidor's many awards and honors. Early in her career, she received a scholarship from the Suffolk County Women's Bar Association and was a Minority Fellow of the Association of the Bar of the City of New York. She also serves as a panelist for the national Bar Association's Labor and Employment Section, providing legal education on various topics related to jury awards, punitive damages, and trial advocacy. New York Super Lawyers has named Ms. Mesidor a Rising Star and Top Woman Attorney in each year since 2013. She has also been named among the National Black Lawyers' Top 100 Black Lawyers. Other awards that she has received include a Merit Award for Franklin College Switzerland, an Exceptional Service to the Public and Community Award, and a Service to the Bar Award. In 2018, CRAIN also recognized her as one of the Top 1000 Leading Women Lawyers in the City.
Ms. Mesidor is a member of the New York State Bar Association, the National Employment Lawyers Association in New York, and the National Bar Association. She is also a member of the NYU Center for Labor and Employment Advisory Board.
Ms. Stanciu is an employment litigator who worked as an associate for Bryan Arcé prior to joining Phillips & Associates. She graduated magna cum laude with a Bachelor of Arts from Hofstra University's Honors College Program, and she subsequently obtained her Juris Doctorate at the Maurice A. Deane School of Law at Hofstra University.
Ms. Mesidor and Ms. Stanciu have compassion for the worry and stress that you may experience if harassing or discriminatory conduct by a coworker or employer threatens your job. They represent plaintiffs in complex employment cases throughout all of the phases of litigation, from discovery to trials and appeals.
Whether you have been a victim of discrimination based on your race, sex, religion, national origin, color, or another protected characteristic, Ms. Mesidor and Ms. Stanciu have the experience and skill to represent you in either federal court or state court. There are important differences among federal, state, and local laws that prohibit discrimination. Among these differences include the statutes of limitations, the size that an employer must be to be covered by the law, whether there is a cap on damages, and the nuances of exactly which conduct is prohibited. They can navigate your claim through the legal system by using strategies designed to take full advantage of each law's protections.
If you believe that you have been a victim of employment discrimination, harassment, or retaliation in the workplace, you should consult us. Contact Phillips & Associates at (866) 229-9441 or through our online form. We handle employment cases in the Bronx, Queens, Brooklyn, and Manhattan, as well as Westchester, Nassau, and Suffolk Counties, and in New Jersey.