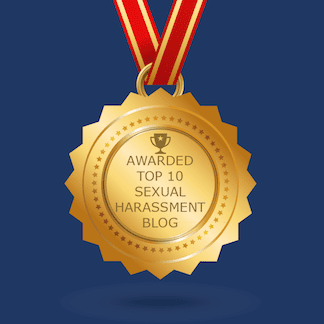 Recently, Phillips & Associates' blog was chosen by Feedspot as one of the Top 10 Sexual Harassment Blogs on the Internet. Using search and social metrics, Feedspot culled the best sexual harassment blogs from thousands of sexual harassment blogs on the web. The blogs are ranked in terms of quality and consistency of posts, as well as editorial review, Google search ranking, Google reputation, and their influence and popularity on social media.
At Phillips & Associates, our New York City sexual harassment lawyers understand the pain and humiliation of being sexually harassed on the job. Often, the harm is both emotional and financial. If you have been subjected to sexual harassment at work in New York, New Jersey, or Pennsylvania, you should consult the experienced attorneys at Phillips & Associates.
Sexual harassment involves unwelcome conduct based on the victim's sex. It is illegal to harass someone in a New York City workplace based on his or her sex under federal, state, and local laws. Harassment can include requests for sexual favors, unwelcome sexual advances, derogatory comments about people of a particular sex, sexual pranks, sexual jokes, touching, groping, and sexual assault. The victim can be a man or a woman, as can the perpetrator.
Teasing, offhand remarks, and isolated incidents are not prohibited. Instead, harassment is unlawful when it meets the standard for quid pro quo or hostile work environment. The former occurs when a person in a position of authority in the workplace tries to exchange a job benefit for a sexual favor or conditions continuing in the job on submitting to sexual harassment. Only people with authority over employment decisions, such as managers or supervisors, can commit this type of harassment.
Hostile work environment harassment occurs when the harassment is so severe or so frequent that it generates a hostile or offensive work environment or causes an adverse employment decision, such as the demotion or firing of the victim.
​At our blog, we discuss case law that affects the nuances of sexual harassment claims. There can be significant challenges that vary depending on the industry in which the sexual harassment occurs. For instance, in one post, we discussed the added challenges presented when dealing with sexual harassment in the hospitality industry. This can be difficult because sometimes the sexual harasser is a guest who is sexually harassing a hotel employee, and this creates a difficult situation in which the hotel is required to take sides between a paying customer and an employee, and they owe duties to both.
Another industry in which sexual harassment claims can be challenging for different reasons is the fashion industry. Generally, laws like the New York State Human Rights Law only prohibit sexual harassment of employees, but many models are independent contractors. Our blog discussed the Models' Harassment Protection Act, a bill that was introduced to amend the state law to include provisions that specifically account for the kinds of sexual harassment experienced by models and the employment relationship between models and others who work with them, such as photographers or designers.
On our blog, we also discuss developments in sexual harassment litigation or news that could affect sexual harassment litigation. For example, there recently has been a surge in sexual harassment complaints, possibly as a result of the #MeToo movement. We wrote about the possibility of a backlog at the Equal Employment Opportunity Commission (EEOC), which is the federal agency tasked with investigating and enforcing Title VII sexual harassment complaints. Before you can proceed to federal litigation, you will need to file a timely sexual harassment charge with the EEOC.
We also discuss recent case law. For example, we discussed a lawsuit filed in 2017, in which supervisors at a security company that served JFK International Airport engaged in offensive, unwelcome actions, including requiring the plaintiff to view live video feeds of other employees who were engaged in sexual activity.
If you believe that you may have been subjected to sexual harassment, you should consult the experienced employment attorneys at Phillips & Associates. Contact Phillips & Associates at (866) 229-9441 or through our online form. We handle sexual harassment litigation in Manhattan, the Bronx, Queens, and Brooklyn, as well as in Nassau, Suffolk, and Westchester Counties and in New Jersey and Pennsylvania.