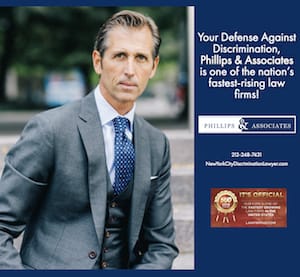 On October 8, 2018, the Law Firm 500 Award Committee announced a list of 2018 Honorees. It included New York City law firm Phillips & Associates on its 3rd Annual Law Firm 500 Honorees List. The list is published yearly to recognize law firms that have grown significantly in revenue. The honorees were verified by outside certified accounting firms and are considered beacons for the legal industry, exemplifying dedication to client service and excellence in operations, as well as innovation. Our New York City employment lawyers were proud to be featured on this list. We serve employees bringing discrimination and sexual harassment claims across three states.
What is the Law Firm 500 Award?
The list of firms on the 2018 Law Firm 500 Award Honorees represents the top 250 fastest-growing law firms in the country. The ranking includes the percentage that the firm has grown over the last three years. The awards gala will be held at the Westin Lake Las Vegas Resort and Spa on October 18-20, 2018. The ceremony starts with a Keynote Presentation by Erin Brockovich, a New York Times bestselling author who was behind the largest direct action lawsuit in our country's history. The Keynote will focus on how one person can make a difference.
Employment Discrimination and Harassment Claims
Phillips & Associates' growth, which landed it on the 2018 Law Firm 500 Award Honorees list, is based on its handling of the plaintiff's side employment discrimination and harassment claims under federal, state, and local laws. There are multiple federal laws that prohibit discrimination and harassment in the workplace, including Title VII of the Civil Rights Act of 1964, the Americans with Disabilities Act, and the Age Discrimination in Employment Act (ADEA). The state anti-discrimination law is the New York State Human Rights Law, and the city anti-discrimination law is the New York City Human Rights Law.
The New York City Human Rights Law
Each of these laws has its own nuances and limitations. Generally, if you work in one of the five boroughs of New York City, the city law provides the most expansive protection to employees. Employers with at least four employees must follow the New York City Human Rights Law, even if the employees are paid off the books, are unpaid interns, or work only part-time. Employers are not allowed to discriminate against a job applicant or an employee based on certain enumerated protected characteristics, such as sex, gender identity or expression, race, color, religion, sexual orientation, age, immigration status, caregiver status, arrest or conviction record, credit history, salary history, disability, marital or partnership status, national origin, pregnancy, status as a current or former military service member, unemployment status, or status as a victim of domestic violence, sexual violence, or stalking. The city law, unlike the federal laws enforced by the EEOC, does not cap damages.
Protections Under State and Federal Laws
The New York State Human Rights Law prohibits discrimination against job applicants and employees based on sex, age, race, creed, color, sexual orientation, national origin, marital status, domestic violence victim status, disability, military status, criminal or arrest record, and predisposing genetic characteristics. Under state law, you cannot recover punitive damages.
Under Title VII and other anti-discrimination laws enforced by the EEOC, your damages are capped based on the size of your employer. You will need to file a charge with the EEOC before you are able to bring a lawsuit, and there is a specific timeline within which to bring your charger.
If you believe that you have been a victim of discrimination or harassment, you should follow the internal grievance procedure set forth in your employer's employment manual. If you fail to use the internal complaint process, you may not be able to show that there was a notice to the employer, and this can adversely affect your legal claim, depending on the law and the circumstances.
Consult an Experienced Trial Attorney in New York City or Beyond
If you are concerned about employment discrimination or harassment at your job, you should consult our firm. Our attorneys have highly experienced trial lawyers who pursue damages from employers of all sizes. Contact Phillips & Associates at (866) 229-9441 or through our online form for a free appointment. We handle employment disputes in New York City, as well as Westchester, Nassau, Suffolk Counties, New Jersey, and Pennsylvania.