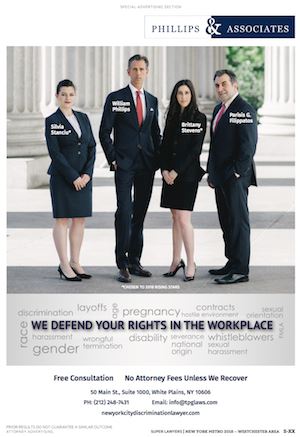 Recently, Westchester Magazine featured our attorneys in a special "Super Lawyers" section that focused on Top Attorneys in the Westchester area. Shown in the photograph were Silvia Stanciu, William Phillips, Brittany Stevens, and Parisis G. Filippatos. Phillips & Associates is a law firm that represents clients in a wide array of employment discrimination and workplace harassment matters. Our Westchester County employment lawyers handle claims arising out of discrimination based on race, gender, disability, pregnancy, national origin, sexual harassment, age, and sexual orientation, among other traits. We also handle litigation related to issues such as wrongful termination, FMLA violations, whistleblowers, and hostile work environments.
Employment discrimination involves disparate treatment of employees based on their membership in a protected class. There are various protected classes under federal and state laws.
Title VII of the Civil Rights Act of 1964
One of the primary federal laws prohibiting discrimination is Title VII of the Civil Rights Act of 1964, which prohibits an employer's discriminatory conduct based on race, religion, national origin, sex, and color. For example, if a prospective employer does not hire you because you are black, you would have a claim for racial discrimination under Title VII. For another example, if you were not given a promotion to a customer-facing position because you are Muslim and Middle Eastern and not "American" enough, you may have a claim for national origin and religious discrimination under Title VII.
Discriminatory conduct may involve disparate treatment or disparate impact. Disparate treatment includes failure to hire, failure to promote, differential pay, layoffs, and termination based on membership in a protected class. Sometimes there is no intent to discriminate, but there is a discriminatory impact on people from a particular race or other protected class; this may give rise to a disparate impact claim. Harassment is one form of discrimination.
When harassment is based on sex, it can be quid pro quo harassment or hostile work environment harassment. The former occurs when employment is conditioned on submitting to sexual overtures, while the latter occurs when sexually harassing conduct is so severe or so pervasive that it alters the job's terms and conditions, or it results in an adverse employment decision. For example, if your manager flirts with you at a holiday party and propositions you, claiming that you could advance further in your job by sleeping with him, you have a claim for quid pro quo harassment. If coworkers touch you inappropriately and make sexual jokes, and when you complain about it to HR, you are transferred to a less favorable department or fired, this can give rise to a hostile work environment claim.
The New York State Human Rights Law
The New York State Human Rights Law also provides protections to workers in Westchester County. It prohibits employment discrimination involving numerous protected classes, including race, color, national origin, age, creed, sexual orientation, military status, sex, disability, marital status, domestic violence victim status, predisposing genetic characteristics, and prior arrest record. As with Title VII, your employer is not supposed to retaliate against you for complaining in good faith about a violation of your rights under the statute. While Title VII applies only to employers with a minimum of 15 employees, the state law applies to employers with at least four employees. With regard to sexual harassment, it applies to every employer in Westchester County, even if the employer only has one employee.
Remedies available for employment discrimination that violates state law include back pay, front pay, reinstatement, and compensatory damages. Title VII permits the recovery of punitive damages, but the New York State Human Rights Law does not.
Get Advice from an Experienced Westchester County Lawyer
Our skillful Westchester County trial lawyers help clients who have been mistreated by their employers with pursuing damages. Call Phillips & Associates at (866) 229-9441 or contact us through our online form for a free consultation. We also represent people throughout New York City and on Long Island, as well as in New Jersey and Pennsylvania.