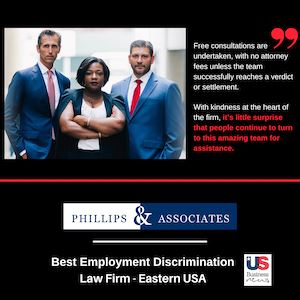 At Phillips & Associates, our New York City employment lawyers are proud to have won a Legal Elite Award from US Business News for Best Employment Discrimination Law Firm in the Eastern United States for 2020. The article in US Business News, describing our firm and why we won the award, explained that when employees are subjected to discrimination on the job, they face a huge challenge in fighting back. Often, an employer has retained a large law firm, while the employee, who has been harmed, is jobless and may have limited savings. We are committed to leveling the playing field for employees.
The article described how our principal, Bill Phillips, spent 10 years in investment banking before deciding to make a difference in employment law. Phillips & Associates started small but grew exponentially. Many of our attorneys have achieved Super Lawyer status, and four are part of the prestigious Million and Multi-Million Dollar Advocates Forums. We have spent thousands of dollars on legal education for attorneys and staff to make sure that clients can receive services that make a positive difference.
The article noted that the success of Phillips & Associates has made it a go-to firm for people with high net worth, but the team evaluates liability in each case, regardless of how much a plaintiff makes. The article emphasized that the firm's doors are open to everyone.
Contingency Fees
Litigation is expensive. While many firms charge fees up-front, the attorneys at Phillips & Associates give free consultations and take cases on a contingency fee basis. This means that they will not ask for a fee unless they successfully obtain a settlement or verdict. Many firms lack the finances to properly fund a lawsuit themselves, and therefore, they may need to cut corners, resulting in inferior litigation. In contrast, Phillips & Associates is proud to be able to correctly finance a lawsuit in order to get the best possible outcome. The firm even covers the costs of appeals if necessary. We understand the emotional effect of discrimination and harassment on our clients, and we are dedicated to getting our clients a sense of closure.
Locations
The firm has expanded beyond New York City, opening offices in Long Island, Westchester, New Jersey, Philadelphia, and Miami. Phillips & Associates is the biggest firm in the employment law field.
Employment Discrimination Law
The article explained that the most common cases that Phillips & Associates currently handles are sexual harassment lawsuits. Also common are lawsuits arising out of pregnancy discrimination and employer failures to provide reasonable accommodations to pregnant workers. Another area that is seeing an increase in litigation is discrimination arising out of medical marijuana use; these are often cases in which people with the proper cards test positive and then are unfairly terminated.
Federal, State, and Local Laws
Federal, state and local laws prohibit employment discrimination based on various protected characteristics. Many federal anti-discrimination laws are enforced by the Equal Employment Opportunity Commission (EEOC); these include the Age Discrimination in Employment Act (ADEA), the Americans with Disabilities Act (ADA), and Title VII of the Civil Rights Act of 1964. These laws usually apply to midsize or large employers; for instance, Title VII applies only if your employer has at least 15 employees.
The New York State Human Rights Law and the New York City Human Rights Law usually provide greater protection than do federal laws. The city law is widely considered one of the most protective anti-discrimination laws in the country. The state law has recently been amended to echo the city law in many ways and to lower the bar for workers and employees suing for discrimination or harassment. Even employers with just one employee are covered by state law.
Consult a Seasoned Employment Discrimination Attorney
Phillips & Associates is proud to win a Legal Elite award as an employment discrimination firm. If you have been harmed by employment discrimination or harassment, you should contact our firm. Our attorneys represent workers in New York City, Westchester County, Long Island, Pennsylvania, New Jersey, and Florida. Call us at (866) 229-9441 or complete our online form.