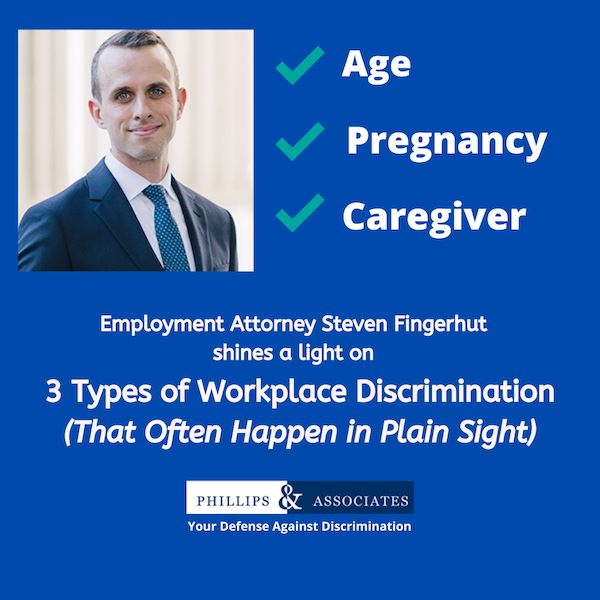 Recently, Thrive Global published an article about three types of workplace discrimination that often happen in plain sight. Discrimination commonly takes the form of adverse treatment or harassment based on race, gender, sexual orientation, or other protected traits. The federal Equal Employment Opportunity Commission (EEOC) provided data that in the year 2019, there were 72,675 employment discrimination complaints. This figure did not include complaints made only to local agencies. Many workers do not realize that there are less notorious kinds of workplace discrimination, and that they may be able to recover damages for these types of discrimination. New York employment lawyer Steven Fingerhut of Phillips & Associates was recently interviewed for the Thrive Global article.
The Importance of Identifying Discrimination
Discrimination is not always express. There are situations in which discrimination arises due to unconscious bias or a system. It is important for business leaders to take active steps to determine whether there is workplace discrimination and guide a business to do better in the future. Sometimes discrimination can be found only through a careful statistical analysis.
Many people feel inclined to overlook workplace injustice, whether they experience it themselves or see someone else experiencing it. However, when people do not speak up, unfair workplace conditions are perpetuated. Three types of workplace discrimination that may hide in plain sight, according to the Thrive Global article, are caregiver discrimination, pregnancy discrimination, and age discrimination.
Caregiver Discrimination
Thrive Global pointed out that the U.S. is the only economically advanced nation with no federal minimum paid leave law. Unfortunately, caregivers often face discrimination when they need to take time off or work on a flexible schedule due to their caregiving duties. Often, single parents and family caregivers do not have much control if their family situation demands that they miss time at work. People in these circumstances often face discrimination in the form of being denied promotions or regular salary increases. They may be denied time off to bond with a newborn. The New York City Human Rights Law also prohibits caregiver discrimination, specifying that a caregiver is someone who gives direct and ongoing care to a minor child or someone who provides direct care to a disabled family member or loved one with whom they live. Additionally, the federal Family and Medical Leave Act (FMLA) covers eligible employees of certain employers for taking leave for certain reasons, including caregiving reasons such as the birth of a newborn. You may have a claim if you were treated adversely for taking FMLA leave to which you were entitled.
Pregnancy Discrimination
Unfortunately, all too many women face job loss or reduction in income when they become pregnant. The problem of pregnancy discrimination affects women from all socioeconomic statuses and backgrounds at every level of the economy. Pregnancy discrimination has been expressly unlawful for decades under the federal Pregnancy Discrimination Act, yet it continues. Steven Fingerhut discussed with Thrive Global his representation of women who have been terminated based on pregnancy or who have been denied requests for reasonable accommodations. He told the publication that pregnant women have a right to work. It is illegal for you to be terminated based on your pregnancy under federal, state, and local laws in New York. Moreover, he stated that pregnancy discrimination harms women's equality in the workplace.
Age Discrimination
Another type of discrimination that some people do not realize is actionable is age discrimination. Thrive Global pointed out that workers who are 65 or older represent the fastest-growing part of the U.S. labor pool. Unfortunately, this growth has also resulted in the growth of age discrimination claims. Two out of three workers who are at least age 45 have reported age discrimination on the job. The federal Age Discrimination in Employment Act (ADEA) prohibits age discrimination against people who are 40 or older. The New York State Human Rights Law and the New York City Human Rights Law also prohibit age discrimination.
Consult Our Employment Attorneys
If you believe that you may have an actionable claim of workplace discrimination based on caregiver status, pregnancy, or age, you should consult our attorneys. At Phillips & Associates, we fight for workers who have faced discrimination on the job. We represent workers in Manhattan, the Bronx, Queens, Staten Island, and Brooklyn, in addition to Nassau, Suffolk, and Westchester Counties. Call us at (866) 229-9441 or contact us via our online form.