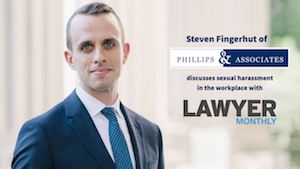 Steven Fingerhut is an employment litigation associate at Phillips & Associates. Super Lawyers has named Mr. Fingerhut a Rising Star. He belongs to the New York State Trial Lawyers' Association and the National Employment Lawyers Association. He vigorously represents people who have suffered from workplace discrimination and harassment and need a New York City employment attorney to safeguard their rights. At one trial, he and his co-counsel secured a $77,054.54 judgement for a client claiming damages for wrongful termination and pregnancy discrimination. Recently, Mr. Fingerhut appeared in Lawyer Monthly to talk about sex discrimination.
In his Lawyer Monthly interview, Mr. Fingerhut talked about the steps that should be taken after a complaint has been filed. Many people are victims of sexual harassment perpetrated by coworkers and supervisors. You might assume that sexual harassment must occur on company premises in order to be actionable. However, you can experience workplace sexual harassment at office parties or while traveling for business. If you face unwelcome sexual advances in connection with work, you should complain so that it can be addressed.
Mr. Fingerhut explained that once you file a complaint of sexual harassment, your employer is supposed to take action to help make sure that the harassment will not continue. Whether or not harassment can be established in court, your employer should take remedial steps, but these remedial steps may be different depending on the particular situation. For example, the steps could include suspending a sexual harasser, counseling a sexual harasser, warning a sexual harasser, or even terminating a sexual harasser. An employer may alter your work schedule or locations so that you do not need to work with the harasser. An investigation may be held if you complain about sexual harassment.
However, an employer might also take actions that are illegal in response to sexual harassment. It is illegal, for example, for your employer to fire you for complaining of sexual harassment. However, this does not mean that terminations based on complaining about sexual harassment do not occur. Many employees are understandably fearful that complaining about sexual harassment will endanger their livelihoods. Anti-discrimination laws guard against illegal retaliation for complaining about sexual harassment.
Often, a retaliation claim can be successful even if the underlying sexual harassment complaint is not. New York City businesses of any size can be held liable for sexual harassment and gender discrimination. In New York City, independent contractors also are given legal recourse in case of retaliation and sexual harassment.
Harassment and retaliation are not uncommon in a wide range of industries. At Phillips & Associates, we have served clients who are financial advisers, salespeople, consultants, government employees, servers, doctors and nurses, and teachers. It is crucial to consult with an attorney if you have been a victim of workplace sexual harassment. Sexual harassment may include assault and battery, and if you are frightened about your safety, you should consider talking to the police.
It is important to notify your supervisor or HR about the sexual harassment that you are experiencing on the job. The notification should be in writing. Notifying your employer is a protected activity, and it is important to provide the written notice because you can use the written notification as documentation that you engaged in a protected activity, for which your employer should not have retaliated against you. Often, employee handbooks specify grievance procedures for complaining about sexual harassment.
If you lose your job because of illegal retaliation, you may be able to recover damages. These can include lost wages and emotional distress damages. If an employer's conduct was egregious, it may be possible to get punitive damages for retaliation. Punitive damages are intended to punish an employer for recklessly or wantonly violating the law. The amount of punitive damages hinges on the employer's ability to pay them.
It is important to consult an attorney if you feel that you are being forced to resign. Sometimes employers do not take formal adverse steps but instead behave in hostile ways, hoping to make an employee who has a sexual harassment claim quit. It is important not to quit but to instead talk to an employment attorney with experience in sexual harassment and retaliation claims.
If you have been harmed by sexual harassment or some other type of discrimination in New York City, Mr. Fingerhut or one of our other trial attorneys may be able to represent you in a claim for damages. Call us at (866) 229-9441 or contact us through our online form. Phillips & Associates represents clients in the Bronx, Queens, Manhattan, and Brooklyn, as well as Long Island, Westchester County, New Jersey, and Pennsylvania.