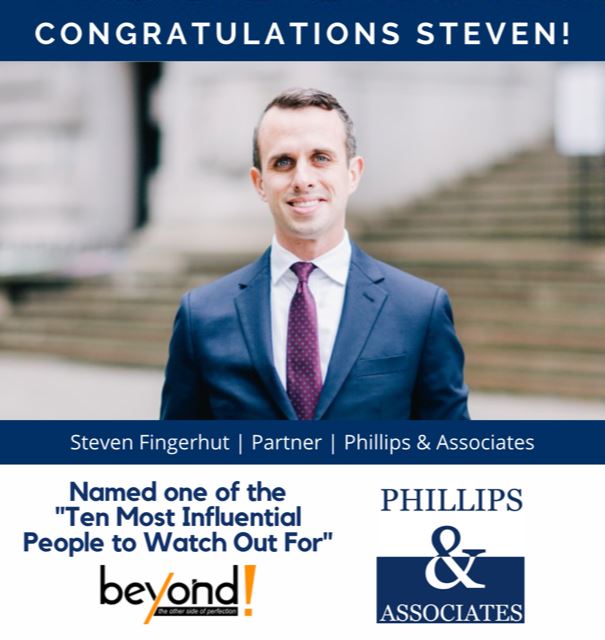 Recently, Phillips & Associates appeared on the cover of Beyond Exclamation's "Influential People to Look Out For" 2020 Issue. Our partner, Steven Fingerhut, was profiled. He spoke to the magazine about sexual harassment on the job. Federal, state, and local laws prohibit sexual harassment. If you were a victim of sexual harassment in a New York City workplace, you may be able to obtain monetary damages and equitable relief. You should consult Steven Fingerhut or one of our other seasoned attorneys about whether you have a viable claim. At Phillips & Associates, our New York City sexual harassment lawyers are staunch advocates for people who have been harassed on the job.
Steven Fingerhut
As the article explains, our partner Steven Fingerhut has secured more than $7 million in settlements for sexual harassment victims over the last three years. Mr. Fingerhut advocates for clients who have been victims of discrimination, harassment, retaliation, unequal pay, or other illegal work practices. He is motivated by wanting to provide a voice to women and others silenced on the job.
Mr. Fingerhut develops strategies with teams of attorneys and paralegals to determine how best to pursue the greatest relief possible for his clients. Each day, his aim is to leave the office confident that he has provided as much care and focus as possible to every legal issue that arises. He hopes that his clients can feel that. He believes that his approach also invites positivity in his colleagues, and he is proud of the team with whom he works. Mr. Fingerhut works hard to build trust with clients by communicating with them often and speaking with sincerity. He wants his clients to feel empathy and compassion from him.
Mr. Fingerhut understands that you may feel unheard in your daily struggle as a victim of workplace harassment. He is in each client's corner. He feels privileged to represent people who have been harassed. When asked about his strengths, he highlights that his own privilege has permitted him financial stability and access to a good education a young age. Mr. Fingerhut is quick to acknowledge that he has benefited from opportunities that were more readily available to him due to his identity as a cisgender white man, for which he cannot take credit.
He graduated from the College of New Jersey with a mathematics major and art history minor. He subsequently graduated from Albany Law School. After exploring various practice areas, he became passionate about representing plaintiffs in Title VII litigation. He advises law students who do not find a niche that excites them in their first legal job to keep exploring until they do.
The #MeToo Movement
Mr. Fingerhut has followed the #MeToo movement closely. The movement has helped women come forward to expose sexual harassment. However, there is also an ugly countermovement in which victims are not respected for their courage, but instead routinely accused of fabricating their claims for money or fame. In the article, Mr. Fingerhut notes that the number of sexual harassment claims that are debunked is extremely small. Mr. Fingerhut commented that a man's skepticism when a woman claims sexual harassment reveals his own unacknowledged privilege. In fact, he shared anecdotally that in his experience, in the rare cases in which an accuser has been dishonest about sexual harassment, the accuser has almost always been male, rather than female.
Mr. Fingerhut has observed that plaintiffs often face an uphill battle against huge companies that rely on its current employees to testify against the plaintiff. He wants to help women whose complaints are ignored or prompt retaliatory measures by the employer. Harassment can arise anywhere in the corporate hierarchy. Often, employers delegate too much authority to employees who are not fit to manage others. In New York City, which has highly progressive policies, employers can be vicariously liable for a supervisor's bad acts, even if the victim did not notify HR.
Sexual Harassment
The New York City Human Rights Law is widely considered one of the strongest anti-discrimination laws in the country. It prohibits discrimination based on sex, among other characteristics. Sexual harassment is one form of sex discrimination. It may involve groping, touching, jokes, pranks, memes, derogatory remarks based on sex, or even assault. The City law has long been construed more liberally than the federal law.
Often, employees feel afraid to voice a complaint, even when the HR policy on reporting sexual harassment is carefully constructed. Mr. Fingerhut is proud of his clients who have overcome huge obstacles and endured years of litigation trying to obtain justice after being harassed.
Hire a Seasoned Employee Advocate
In the article, Mr. Fingerhut noted that Phillips & Associates has expanded over the past 10 years. It has more than 40 employees in six offices and four states. Mr. Fingerhut believes that there could be six more offices in another 10 years. If you were sexually harassed on the job, you should hire knowledgeable legal counsel to fight for you. The seasoned attorneys at Phillips & Associates provide legal representation to workers in Brooklyn, Manhattan, Queens, the Bronx, and Staten Island, as well as Long Island, Westchester County, New Jersey, Pennsylvania, and Florida. Call us at (866) 229-9441 or complete our online form.