Employment Litigators Based in New York City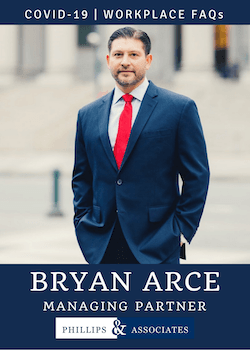 COVID-19 has substantially disrupted workplaces around New York City. It is important to be aware that most existing employment laws still remain in effect during the pandemic, but there have been some increased protections for workers as well. If you are wondering whether your employer can fire you because you are at a higher risk for a severe case of COVID-19 due to your age, you should consult the seasoned New York City age discrimination lawyers at Phillips & Associates. Our firm has tackled age discrimination claims since long before the pandemic. We understand the nuances of federal, state, and local age discrimination laws.
Can My Employer Fire Me Because I'm at Higher Risk for a Severe Case of COVID-19 Due to My Age?
COVID-19 is a new disease for which there is limited information about risk factors and serious complications. The Centers for Disease Control (CDC) has announced that those who are 65 and older may be at higher risk for severe illness from COVID-19. In spite of this increased risk, your employer should not discriminate against you based on your age or perceived age. Your employer should not terminate you just because you are, or even may be, at higher risk due to your age. Age discrimination is prohibited under the federal Age Discrimination in Employment Act (ADEA), the New York State Human Rights Law (NYSHRL), and the New York City Human Rights Law (NYCHRL).
Your employer should also not take any other adverse employment action against you due to your age. The federal ADEA prohibits discrimination against employees who are at least 40 years old. As long as you work for an employer with at least 20 employees, you are protected against discrimination based on being age 40 or older, even if your older age places you at higher risk for a severe case of COVID-19.
The NYCHRL provides more substantial protection against age discrimination in the workplace. It prohibits discrimination based on your age whether you are young or old. Similarly, the state law forbids age discrimination regardless of the age of the employee or the employer's size. Under these laws, your employer cannot evaluate you differently from other workers just because your age puts you at greater risk of contracting COVID-19.
Age Discrimination
There is an exception to the general rule against age discrimination under the city law when age is a bona fide occupational qualification (BFOQ). A BFOQ is a characteristic or trait possessed by employees in a protected class, such as age. Employers should not refuse to hire or terminate a worker due to his or her age, unless the decision is based on a BFOQ. The employer will need to show that excluding the employee (and that age group) is reasonably necessary for the normal operation of the employer's specific business.
Courts might agree with a BFOQ defense if public safety is at issue. However, the defense is very narrow. We would need to closely look at your situation to determine whether an employer's stated BFOQ makes sense in light of the higher risk of COVID-19 for older people.
A blanket policy that prevents employees over a certain age from being in the workplace would be illegal. Similarly, requiring you to undergo additional testing or safety precautions would also cut against the ADEA.
Reasonable Accommodations
An employer is supposed to provide reasonable accommodations for employees who have disabilities or who have certain religious practices. However, the ADEA is a separate law, and it does not require an employer to accommodate an older employee even when the employee is scared of coming into the workplace and acquiring COVID-19 due to his or her age. An employer does not have a legal obligation to allow you to work from home or take leave, unless you have an underlying medical condition that can be construed as a disability under the ADA, the NYSHRL, or the NYCHRL. If your employer is permitting other employees to work from home, or take leave, because of fear of contracting COVID-19, your employer should make sure that it is not denying you the chance to do the same because you are older.
Contact Our Experienced Employment Attorneys
If you believe that you were subject to age discrimination, one of our experienced trial attorneys at Phillips & Associates may be able to represent you. We assist workers in Brooklyn, Manhattan, Queens, Staten Island, the Bronx, and Nassau, Suffolk, and Westchester Counties, as well as New Jersey, Pennsylvania, and Florida. Call us at (866) 229-9441 or complete our online form.