Employment Litigators Based in New York City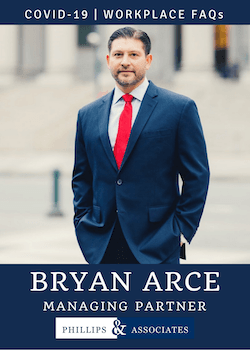 New York State has slowly begun reopening after it closed for the COVID-19 pandemic. Many New Yorkers have been able to go back to their jobs. Unfortunately, some workers remain without childcare. In some instances, a child's school or daycare has not reopened. In other instances, a worker may not draw a large enough salary to pay for private childcare or childcare that has been available during the pandemic. If you are wondering whether your company can make you go back to work if you do not have childcare, you should call the New York City employment lawyers at Phillips & Associates. We may be able to counsel and represent you.
Can My Company Make Me Come Back to Work if I Don't Have Childcare?
Many workers have been unable to go back to work because no childcare has been available. Some of these workers have had to leave the workforce and have been collecting unemployment assistance at the federal or state level or are trying to work from home while also providing childcare to their own child or children.
You should be aware that the New York City Human Rights Law (NYCHRL) prohibits caregiver discrimination. Caregiver discrimination occurs when an employer's decisions are based on an employee's caregiver status. You should not be treated adversely, either as an employee or as a job applicant, if you are a parent with a child under the age of 18, and you provide the child with direct and ongoing care. Likewise, you should not be treated adversely in employment situations because you provide direct and ongoing care to a child of any age, sibling, parent, grandparent, or grandchild with a disability. The same hold true if, someone who lives with you, relies on you for medical care or to meet daily living needs. All employers with at least four employees in New York City are covered by this law.
The city law is meant to be read broadly. It is intended to protect all caregivers from retaliation for asking for a flexible schedule or a change in the terms and conditions of their employment as they relate to caregiving responsibilities.
Strictly speaking however, the NYCHRL does not expressly require your employer to reasonably accommodate you as a caregiver. Generally, employers are not held liable when they treat caregivers in the same way that they treat other employees. Even so, as a practical matter, employers do accommodate employees for various reasons, and they should not deny an accommodation request by a caregiver if they accommodate other employees for other reasons.
Familial Status Discrimination
Childcare, and being a parent, is a type of familial status discrimination under the New York State Human Rights Law. Parents are entitled to receive the same treatment as coworkers who do not have children and receive the same accommodations as employees without minor children.
Familial status discrimination can take different forms. It could include paying you less or taking another negative action against you because you have children. Y our employer should not deny you an alternative work schedule so that you can trade off childcare as needed with a partner, if accommodations featuring schedule shifts are routinely provided to workers who do not have caregiving responsibilities.
Employment Offers
Under the law, you generally must accept an employment offer (or offered your prior job back) if you are an unemployed New Yorker, even if you are receiving unemployment insurance (UI) or COVID-19 Pandemic Unemployment Assistance (PUA) and would earn less by accepting the position than you would earn by continuing the benefits. If you turn down a job offer, you may no longer be able to collect unemployment benefits, unless you have good cause.
However, there are some specific situations related to COVID-19 that would allow you to turn down a job offer. One reason why you may turn down a job offer is if you are the primary caregiver for a child who is not able to go to school, or stay in another facility, due to COVID-19. Similarly, if you are caring for a family or household member diagnosed with COVID-19 and do not have childcare, you would be generally able to turn down the job offer and continue getting unemployment benefits.
Retain a Seasoned Employment Litigation Attorney
If you are worried about whether your employer can make you return to the workplace, even though you do not have childcare, you should call us. One of our experienced trial attorneys may be able to represent you. Phillips & Associates assists clients in Brooklyn, Manhattan, Queens, Staten Island, the Bronx, and Nassau, Suffolk, and Westchester Counties, as well as New Jersey, Pennsylvania, and Florida. Call us at (866) 229-9441 or complete our online form.