Am I Entitled To Overtime If I Am Working From Home
Am I Entitled to Overtime if I Am Working From Home?
New York City Attorneys for Wage and Hour Disputes
During COVID-19, many workers have had to work from home. In some cases, employers have issued a blanket rule about working from home even after the state and city allowed workplaces to open up. However, in other cases, employees have asked to work from home as reasonable accommodations for disabilities or religious practices. Employment laws, such as overtime laws, apply even when an employee is working from home. If you are concerned about whether you are entitled to overtime while working from home, you should discuss your situation with the New York City wage and hour attorneys at Phillips & Associates.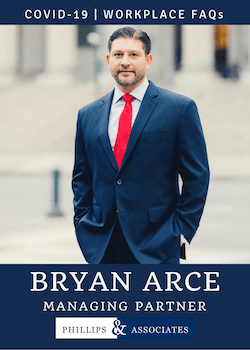 Am I Entitled to Overtime if I Am Working From Home?
Both federal and state laws protect workers when it comes to wages. Across the country, the federal Fair Labor Standards Act (FLSA) provides for the right to a minimum wage, as well as overtime pay for non-exempt employees who work more than 40 hours per week. The FLSA applies to any worker who is engaged in interstate commerce or who is employed by a commercial enterprise. As an employee, you are guaranteed rights under the FLSA, unless your employer can claim an exemption.
States have their own legislation to cover minimum wage and overtime. When there is a conflict between federal and state laws, New York City employers must follow the law that is more protective of employees. New York law requires an employer to pay overtime to non-exempt employees at a rate of 1½ times the regular pay rate for all hours worked in excess of 40 hours in a workweek. For example, if you work overtime from home at a rate of $15 per hour, you can get overtime pay of $22.50 per hour for every hour of overtime in a workweek.
Calculating the Regular Rate of Pay
Your regular hourly rate of pay as a worker in New York is calculated by dividing your total pay in that workweek by the total hours that you worked. Certain aspects of pay are not considered when determining your regular hourly rate for overtime. You cannot include discretionary bonuses, gifts for special occasions, payments made for expenses incurred on your employer's behalf, or any payments made for overtime work or while working on holidays and weekends. When employees work two different jobs for the same employer in the same week, their regular rate is determined by looking at the weighted average of the two different rates.
A workweek in New York is any seven consecutive 24-hour days. It can commence on any day of the week. Unlike some states, New York does not restrict the precise number of hours that can be worked per day or the days that can be worked beyond five days in a week. You may be asked to work from home for more than eight hours a day without getting overtime, as long as you do not work more than a total of 40 hours in a week. However, certain employers must give employees a rest period of at least 24 consecutive hours in a given week.
Exemptions
While most businesses are required to pay overtime to their workers, certain businesses are exempt. Businesses with fewer than 20 employees may be exempt from having to pay overtime to employees. Companies that do not meet a profit margin of at least $500,000 per year might also be exempt from overtime laws. Not only are some specific industries exempt from paying overtime, but some positions can also be exempt from overtime under the salary basis test, which requires that you earn a certain minimum amount per week or year.
There is also a duties test, which provides that there are exemptions for executive positions, administrative positions, and professional positions. For example, if you are a professor who teaches Zoom classes online, you may fall within a professional overtime exemption. Similarly, if you are a business manager who is overseeing staff and business operations from home, you may fall within an administrative overtime exemption.
Contact Our Experienced Wage and Hour Attorneys
If you are concerned about overtime pay while working from home, one of the experienced trial attorneys at Phillips & Associates may be able to assist you. We represent clients in Brooklyn, Manhattan, Queens, Staten Island, the Bronx, and Nassau, Suffolk, and Westchester Counties, as well as New Jersey, Pennsylvania, and Florida. Call us at (866) 229-9441 or complete our online form.
What Our Clients Say:
"He covered every angle and was able to help me with my dispute. I would recommend Jesse Weinstein and Phillips and Associates in the future to anyone."

- Margaret

"Being in the restaurant industry for more than 30 years I can say that this law firm is the number one choice for workers in the restaurant business that need to sue their company for wrongful termination."

- Massimo

"He was extremely patient and understanding throughout the process and remained professional and consistent even when I could not. I really felt like he had my back and I didn't have to worry."

- Karen