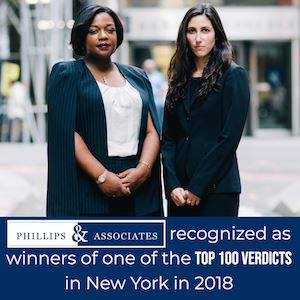 Recently, Phillips & Associates was notified that the firm was recognized as one of the top verdict winners in New York in 2018, based on winning a $2,310,000.00 verdict in an employment discrimination case. The case, which was handled by attorneys Marjorie Mesidor, Brittany A. Stevens, and Nicole A. Welch, included claims of civil rights violations, race discrimination, and hostile work environment. The case is illustrative of the types of cases that Phillips & Associates routinely brings on behalf of employees who are victims of discrimination in New York City and throughout the Tri-State area. While not all cases may result in such high verdicts, our New York City employment attorneys work tirelessly in each case to help our clients pursue the full amount of compensation that they may be owed.
The Underlying Case
According to the court documents, the plaintiff, who is black and West Indian, was employed by the defendant, a transportation services provider, as a transportation services maintainer. Throughout his employment, the plaintiff received compliments and accolades for his work performance. Regardless, the plaintiff's supervisor, who was reportedly white, refused to fill out the necessary documentation for the plaintiff to obtain a promotion and referred negatively to the plaintiff's national origin. Subsequently, an individual who was not qualified was granted the promotion above the plaintiff.
The plaintiff then passed a certifying test to obtain a different promotion, despite his supervisor's efforts to stop him from taking the test. Human resources offered the plaintiff the promotion; however, the plaintiff's supervisor spoke to human resources and convinced them to retract the offer. The plaintiff then complained to upper-level management about his supervisor's discriminatory practices and filed a formal complaint with the Equal Employment Opportunity Commission, after which the supervisor began to retaliate against the plaintiff. Additionally, the supervisor continued to make disparaging remarks to the plaintiff regarding his race and national origin. The plaintiff ultimately resigned due to the hostile work environment.
The plaintiff's lawsuit set forth claims of violations of Title VII and discrimination and retaliation under 42 U.S.C. 1981. The case ultimately proceeded to a trial, and the jury found that the defendant subjected the plaintiff to a hostile work environment. It awarded the plaintiff $2,160,000.00 in compensatory damages and $150,000.00 in punitive damages.
Proving a Hostile Work Environment Claim
A plaintiff alleging that he or she was subjected to a hostile work environment due to discrimination must prove his or her claim by a preponderance of the evidence, which means that he or she must show that it is more likely than not that he or she was subjected to a hostile work environment. In other words, it means that the greater weight of the evidence shows that discrimination created a hostile work environment.
There are several elements that a plaintiff must prove to establish that he or she endured a hostile work environment. Specifically, a plaintiff alleging that he or she was subjected to a hostile work environment must prove that he or she belonged to a statutorily protected class and that he or she was subjected to harassment that involved and was based on his or her membership in the protected class. Unwelcome verbal or physical conduct constitutes harassment. The plaintiff must also show that the harassment affected a condition or term of his or her employment, or that it was meant to unreasonably interfere with the work environment or create a hostile work environment. Lastly, the plaintiff must show that there is a basis for imputing liability to the employer.
Confer with a Skilled Employment Discrimination Attorney
Workplace discrimination can cause lasting financial and emotional harm. The attorneys at Phillips & Associates solely work for employees and have the skills and knowledge needed to help you protect your rights. If you were a victim of workplace discrimination, you should contact us at (866) 229-9441 or via our form online to set up a conference to discuss your case. We represent workers in employment discrimination claims in New York City, as well as in Westchester, Nassau, and Suffolk Counties, New Jersey, and Pennsylvania.