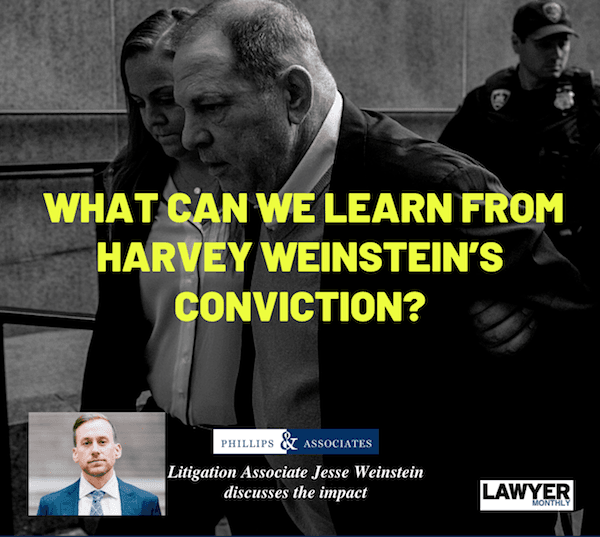 In May 2018, Renowned Hollywood Producer Harvey Weinstein Was Arrested Following a Multitude of Allegations of Sexual Misconduct. A Jury Convicted Him on Two Out of Five Criminal Charges: Third-Degree Rape and Criminal Sexual Assault. He Is the First Major Figure Implicated by the #Metoo Movement to Be Convicted. On March 11, 2020, the Court Sentenced Him to 23 Years of Imprisonment. Jesse Weinstein, a New York Sexual Harassment Lawyer at Phillips & Associates, Spoke With Lawyer Monthly About Harvey Weinstein's Conviction.
Lessons From Harvey Weinstein's Conviction
In the interview with Lawyer Monthly, Attorney Weinstein discussed the effect of Harvey Weinstein's conviction and its lessons for employment lawyers and people bringing sexual harassment lawsuits. Due to the publicity surrounding the Weinstein case, employers are now scrutinized more closely when sexual harassment allegations arise. Employers have learned from this case that no person of authority in the workplace, even an executive, can be considered free from accountability. Attorney Weinstein explained that Harvey Weinstein's destroyed career should make employers more cautious when retaining, training, and hiring employees.
This case also has shone a spotlight on the strong legal protections for employees faced with sexual harassment, of which some people may not have been aware. Moreover, some jurisdictions have strengthened their sexual harassment laws in response to the Harvey Weinstein case and similar cases. Employees often feel uncertain about whether the legal system will help them, since an employer has far more resources than they do. However, this conviction shows that the system can work to protect the rights of ordinary people. Through related civil litigation, Weinstein's victims were paid millions of dollars in compensation. Other victims of sexual harassment should be emboldened to pursue their own claims.
Weinstein continues to face legal challenges, such as criminal charges in California. There are also other pending civil claims. The evidence that led to his criminal convictions may assist the victims who are pursuing those claims. Criminal prosecutors also may face increased public scrutiny as they determine whether to prosecute cases arising out of sexual assault in the workplace.
Non-disclosure and Settlement Agreements in Sexual Harassment Cases
Attorney Weinstein also discussed non-disclosure and settlement agreements, which can play a key role in sexual harassment cases. These are usually drafted by the employer's attorney to shield the employer as much as possible. The agreements typically include the parties' names, the monetary sum that would resolve the claims, a general release, the method by which a monetary amount would be paid, and a confidentiality provision. Often, a settlement agreement goes through many drafts while being reviewed by attorneys on both sides. If negotiations break down, the dispute may proceed further into litigation.
Sometimes an employee worries that they will not be able to list a former employer as a reference after a case settles. This concern is particularly serious if the employee worked for the employer for a long period, since the employee may have nobody else to list as a reference, and the absence of the most recent employer from a list of references could raise red flags to a prospective employer.
To respond to this concern, attorneys for employees can incorporate neutral reference clauses into an agreement. These clauses specify that if a claimant's prospective employer gets in touch with a former employer for a reference, the former employer will give the dates of the claimant's employment and the jobs held by the claimant and let the prospective employer know that its policy is to give only that information.
Contact Our Sexual Harassment Attorneys to Discuss a Possible Claim
As the Lawyer Monthly interview emphasizes, the story of Harvey Weinstein contains important lessons and ramifications for sexual harassment lawsuits. Sexual harassment litigation can be pursued against all types of employers in New York City and the surrounding areas. Phillips & Associates represents victims of harassment in Manhattan, Queens, the Bronx, Brooklyn, and Staten Island, as well as Long Island and Westchester County. We also serve employees in New Jersey and Pennsylvania. Call us at (866) 229-9441 or contact us through our online form.