Prior to trial in a sexual harassment case, a harasser may try to get the case dismissed through various motions, including a motion for summary judgment. When a defendant is successful in this type of motion, the case will be dismissed, and a victim will not have their case go before a jury. Recently, Phillips & Associates represented a patient of a medical practice who had been sexually harassed and whose harasser had moved for summary judgment on her claim. Attorney Joshua M. Friedman successfully fought the motion and obtained a denial of it so that our client could go forward with her claim. If you have faced harassment or abuse by your doctor, you should call Phillips & Associates. Our New York sexual harassment lawyers may be able to help you.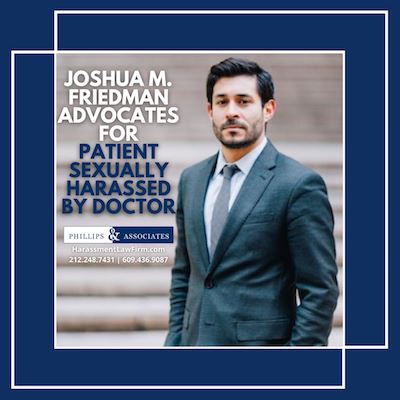 Liability for Sexual Harassment by New York Doctors
The New York City Human Rights Law and the New York State Human Rights Law forbid discrimination based on sex in public accommodations. Sexual harassment is one type of sex discrimination. Clinics and hospitals should not permit sexual harassment of patients by their employees.
Prohibited sexual harassment includes a wide range of unwelcome behavior and comments based on sex. It may involve touching, derogatory remarks, crude jokes, or even assault. If your doctor made a sexual comment to you or groped you, or simply treated you differently from people of another sex or gender, there may be a violation of the city or state laws.
You may be able to hold a doctor liable for his or her sexual harassment of you as a patient. You may also be able to hold the doctor's employer liable for an illegal discriminatory practice based on gender. Clinics and hospitals may be held accountable for an employee's sexually harassing conduct.
It is important to be aware that sexual harassment can be perpetrated by people of either sex against those with whom they share the same sex. Harassment is often about power, rather than desire.
Single-Sex Restroom Facilities
In a hospital or clinic, you should be allowed to use single-sex facilities consistent with your gender. Your doctor should not make any offensive comments or derogatory remarks about your use of a single-sex facility based on the sex that you were assigned at birth or your anatomy. Additionally, your doctor should not try to stop you from using the restroom that fits your gender because he or she assumes that your gender is different, based on information in your medical record or your appearance.
Damages
If we can successfully establish liability for sexual harassment in a public accommodation under the New York City Human Rights Law or the New York State Human Rights Law, we may be able to obtain compensatory damages from the doctor and medical practice on your behalf. In some cases, it may be appropriate to request punitive damages, which are damages intended to deter and punish. For instance, it might be appropriate to seek these damages if a clinic knowingly employed a doctor with a history of sexual harassment complaints, and he harassed you. Additionally, we may be able to secure injunctive relief. Injunctive relief may involve orders that doctors go through sexual harassment training and avoid any further improper conduct. It could also involve requiring the hospital or clinic to institute a better sexual harassment policy to prevent future harassment of patients by doctors.
Other Relief
In addition to civil remedies under the state or local anti-discrimination laws, you may be able to seek relief by filing a report with the police and with the state medical board. You may have causes of action for civil assault or battery or intentional infliction of emotional distress, in addition to other claims.
Contact Our Experienced Sexual Harassment Attorneys
If you believe that you were subject to sexual harassment, our experienced trial attorneys at Phillips & Associates may be able to represent you. We represent victims in New York City and Westchester, Nassau, and Suffolk Counties, as well as New Jersey, Pennsylvania, and Florida. Call us at (866) 229-9441 or complete our online form.
PHILLIPS & ASSOCIATES
45 Broadway, #430
New York, NY 10006
Tel: (866) 229-9441
Fax: (212) 901-2107