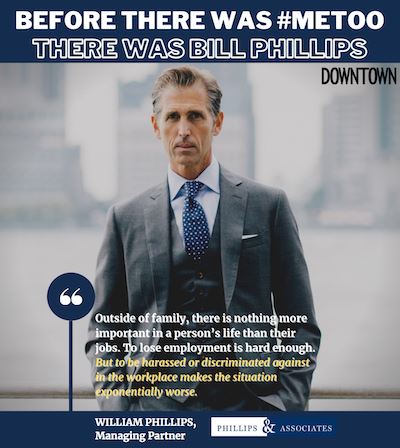 Our founder and managing partner Williams Phillips understands that facing workplace harassment and losing one's job due to an aspect of identity are painful experiences. Often corporations are far more powerful than their workers and use their status to intimidate victims of discrimination and harassment. In Winter 2019, Mr. Phillips was profiled in the magazine Humans in a profile entitled "Truth to Power: Before There Was #MeToo, there was Bill Phillips." The profile focuses on Mr. Phillips's dedication to representing workers in discrimination lawsuits, based on his awareness that, aside from family, jobs are frequently the most important aspects of workers' lives. If you are concerned about an employment law and employment discrimination matter, it is imperative to seek legal counsel. You should consult Mr. Phillips and his team of 19 aggressive and knowledgeable New York City employment discrimination attorneys. We offer free consultations.
How Our Plaintiff's Firm Got Started
Employment discrimination occurs whenever a worker is treated adversely in an employment action due to his or her membership in a protected class. As the Humans profile mentions, Mr. Phillips was named one of the 10 Best Labor and Employment Attorneys in New York. He left a career in investment banking in order to fight for victims of harassment and discrimination in the workplace. At the firm he founded, he surrounds himself with the best employment lawyers in order to ensure clients receive legal representation that is tailored to their unique situation.
Recognizing that many victims of harassment have lost their jobs or find themselves in precarious financial and emotional position, Phillips changed the firm's business model so that legal services are provided on a contingency fee basis. Many law firms charge a retainer, which is an upfront fee. This can cost workers up to $10,000 soon after they've been harmed by their employers. However, Phillips and Associates doesn't charge a retainer. In fact, no attorneys' fees are recovered unless and until the firm succeeds in obtaining settlements or damages awards at trial.
Unlike some other firms, Phillips and Associates fronts the costs of litigation to its clients and cuts no corners in pursuing remedies. It is willing and capable of taking cases all the way to verdict and even appeal when appropriate. In one of its racial discrimination and national origin discrimination cases, Phillips and Associates won a $2.3 million verdict against the Port Authority of New York and New Jersey.
Finding a Lawyer for Your Workplace Sexual Harassment Lawsuit
The Humans profile also noted that Mr. Phillips believes there is more work to be done to obliterate workplace sexual harassment. The #MeToo movement has shed a much-needed light on workplace sexual harassment and shifted the tide of public opinion about this sadly-common experience. However, even though people are now more comfortable disclosing their sexual harassment experiences as a result of the movement, they still need legal representation.
Understanding that discrimination and sexual harassment in the workplace have devastating consequences for ordinary people, Mr. Phillips and his team at Phillips & Associates intend to keep fighting. Expanding outward from the downtown New York City office where it started, the firm now runs offices in Philadelphia, Long Island, Westchester, and the West Coast. It will continue to grow as long as there is a need for effective trial lawyers who focus on employment discrimination cases.
State Law
One of the most important employment law and employment discrimination laws for New York City workers is the New York State Human Rights Law. This law covers every workplace in New York, regardless of size; harassment based on protected characteristics is prohibited even if you are your employer's only employee. Protected characteristics include:
Color
National origin
Citizenship status
Religion
Sex
Disability
Age.
City Law
Another important employment discrimination law is the New York City Human Rights Law, which covers workplaces with at least four employees. It has long been considered one of the most liberal antidiscrimination laws in the country. The body of judicial opinion interpreting the city law is well-developed. The city law protects a wide range of characteristics including:
Color
Race
Religion
Gender
Gender Identity
Sexual Orientation
Pregnancy and Lactation Accommodations
Marital Status
National Origin.
Federal Laws
Federal case law is also well-developed by the courts. Several different federal antidiscrimination laws may protect you against discrimination and harassment. Protected characteristics under these laws include:
Race
National origin
Color
Religion
Sex
Disability
Age if you're over 40.
But not every company is covered by federal laws. Title VII of the Civil Rights Act of 1964, for example, only covers your employer if it has at least 15 employees.
Hire William Phillips and the Stellar Team at Phillips & Associates
At Phillips and Associates, we represent workers whose rights have been violated. We handle employment law and employment discrimination disputes. Our New York City trial firm represents workers in companies located in Manhattan, Brooklyn, the Bronx, Queens, Staten Island, Suffolk County, and Nassau County, among other places. Fill out our online form or contact us at (866) 229-9441.