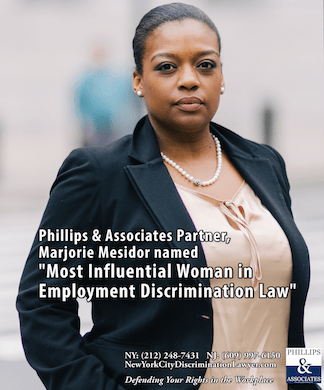 New York City employment lawyer Marjorie Mesidor of Phillips & Associates was recently named the Most Influential Woman in Employment Discrimination Law in New York in the 2018 Global Excellence Program. The program is run by Global Media Ltd. Ms. Mesidor has sued businesses of many different sizes, including numerous Fortune 500 companies, on behalf of clients who have suffered from employment discrimination in New York City and surrounding areas. She has had tremendous success negotiating favorable settlements and winning awards at trial.. Ms. Mesidor has received several awards for her excellent, knowledgeable representation of clients who have been victimized by mistreatment arising out of race, sex, pregnancy, disability, and other protected traits.
In the case of Johnson v. STRIVE, Ms. Mesidor obtained a unanimous jury award that settled the question of whether people of the same race can discriminate against each other in the workplace. In that case, the plaintiff, a Black woman, sued for sexual and racial discrimination after her supervisor used racial epithets against her in the workplace. The jury concluded that the supervisor and the employer had created a hostile work environment, and it awarded both compensatory and punitive damages.
Ms. Mesidor has more than 13 years of experience representing clients in state and federal courts. She has compassion for her clients' stressors including the stress created by coworker and supervisor harassment, as well as the employer discrimination overall. She has received many awards and distinctions for her work in these areas including CRAINS 2018 List of Leading Women Lawyers in NYC.
Employment discrimination is actionable under federal, state, and local laws. Each law protects employees based on different traits or characteristics, and each has different nuances. It is important to consult with an experienced and skillful New York City employment attorney about whether you have a viable claim. Under federal Title VII of the Civil Rights Act, for example, it is possible to pursue damages for discrimination based on race, color, religion, national origin, and sex. However, Title VII only applies to workplaces with at least 15 employees. Both punitive and compensatory damages are capped based on the size of the employer.
For some workers, it may be more beneficial to seek damages under the New York State Human Rights Law or the New York City Human Rights Law. The New York State Human Rights Law prohibits workplace discrimination on the basis of national origin, race, color, creed, age, sex, sexual orientation, marital status, military status, disability, domestic violence status, predisposing genetic characteristics, and criminal or arrest record. The state law applies to employers that have at least 4 employees, except in the case of sexual harassment. Under the state law, an employer is not permitted to sexually harass an employee, even if there is just one employee. Punitive damages cannot be obtained under the state law. However, compensatory damages are not capped.
Meanwhile, the New York City Human Rights Law is one of the most favorable anti-discrimination laws under which you can pursue damages. Protected characteristics include race, color, national origin, alienage or citizenship status, religion, age, gender, gender identity, sexual orientation, disability, marital status, pregnancy, and status as a veteran or active military service member. Unlike with Title VII, damages are not capped. When an employer's conduct is egregious, you may be able to obtain punitive damages.
Employment discrimination occurs when an employer treats a job applicant or an employee adversely with regard to a protected trait. For example, if a manager demotes you to a position that is not customer facing because of your accent and hijab, you may be able to recover damages for national origin discrimination. For another example, if your coworkers send you memes featuring monkeys and using the n-word, you may be able to recover damages for racial harassment.
Workplace discrimination can affect the emotional and physical health of employees subjected to it. It is not uncommon for people who are sexually or racially harassed to experience insomnia, anxiety, and depression as a result. If you believe that you may have been subjected to employment discrimination, you should consult the experienced employment litigators at Phillips & Associates. Call us at (866) 229-9441 or use our online form to set up a free consultation.