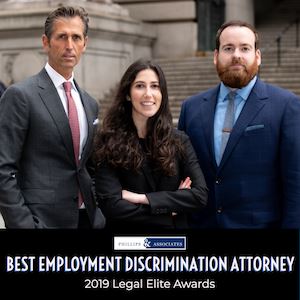 US Business News Magazine recently issued its 2019 Legal Elite Awards, and Phillips & Associates is proud to announce that we were named the Best Employment Discrimination Attorney in New York. Phillips & Associates represents plaintiffs in employment discrimination lawsuits in New York City and throughout the Tri-State area. Our New York City employment discrimination lawyers work with a wide range of clients and fight tenaciously to protect their rights in the workplace.
Our Clients
Phillips & Associates was founded over seven years ago, and since then our attorneys have worked diligently to help us become one of the best sexual harassment and discrimination firms in the New York area. We solely represent employees in these cases. We are mindful that employees who are victims of discrimination or sexual harassment are typically fighting corporations and other businesses with seemingly endless resources to pay attorneys. We strive to level the playing field for employees who were victims of discrimination by using our skills, experience, and resources to hold discriminatory employers accountable. We are dedicated to helping our clients repair the harm caused by their employers so that they can move forward with their lives.
Our Team
Many employment discrimination law firms in the New York area have fewer attorneys than Phillips & Associates and limited resources to handle the complexities of an employment discrimination lawsuit. We have multiple attorneys with substantial experience in handling high-value cases and have obtained over $110 million in verdicts and settlements for our clients. Additionally, six of our attorneys are members of the "Million Dollar Advocates Forum," which is limited to attorneys who have obtained a settlement or verdict of $1 million or more. We endeavor to remain at the forefront of protecting employees' rights and work hard to offer our clients the latest legal insights and support to assist them in obtaining successful results.
Pursuing Employment Discrimination Claims Under Local, State, and Federal Laws
Focusing on sexual harassment and employment discrimination cases allows us to become proficient in identifying potential claims and analyzing the particular facts of each case to develop compelling arguments in favor of our clients. Employment discrimination is prohibited by local, state, and federal laws, and an employer that has discriminated against an employee can be held liable for damages caused by the discrimination.
The law under which an employee seeks damages will depend on the nature of the discrimination and which law is most favorable to the employee. For example, racial discrimination is prohibited by Title VII of the Civil Rights Act, which is a federal law, and both the New York State Human Rights Law and the New York City Human Rights Law. Title VII, however, only applies to employers with 15 or more employees. Furthermore, the combined compensatory and punitive damages recoverable under Title VII are capped based on the number of employees who work for the employer.
In contrast, the New York State Human Rights Law, which also prohibits discrimination, applies to employers with four or more employees. In cases involving sexual harassment, there is no employee minimum. Lastly, the New York City Human Rights Law provides the greatest protection from discrimination for employees and potential employees. Like the New York State Human Rights Law, the New York City Human Rights Law applies to employers with four or more employees. Damages under the New York City Human Rights Law are not capped, unlike damages recoverable under Title VII.
Meet with an Experienced Employment Discrimination Attorney
Employees have a right to be free from discrimination in the workplace. If you are a victim of discrimination, it is crucial to retain an experienced employment lawyer to protect your rights. The attorneys at Phillips & Associates will work diligently to help you seek any damages that you may be owed. You can contact us at (866) 229-9441 or through our online form to schedule a meeting to discuss your options. We assist employees in discrimination lawsuits in New York City, as well as Westchester, Nassau, Suffolk Counties, New Jersey, and Pennsylvania.