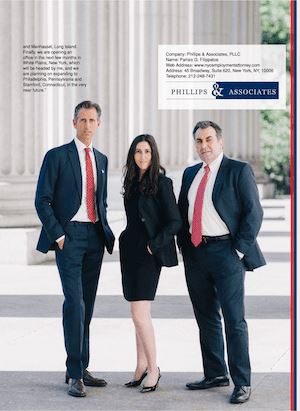 Recently, three New York employment lawyers at Phillips & Associates appeared in a US Business News article. Our firm was described as "constantly striving for the pinnacle of success in representing each and every client." The article highlighted the diversity of our attorneys and the varied backgrounds that we bring to bear on each employment dispute that we handle. It also discussed our beliefs that there is no case too novel to ask a jury to resolve and that there is no case too small to pursue in federal court. It cited our courage in going up against large corporations and other powerful adversaries.
Parisis Filippatos, a Partner at Phillips & Associates, spoke to the magazine about our willingness to pursue damages and settlements on behalf of single plaintiffs who have faced employment discrimination. He discussed a distinctive aspect of our firm, which is that we have many attorneys who have experience in high-value cases, including those that are worth six or seven figures. He explained that our firm has recovered over $110 million to date for our clients collectively. He noted that we especially emphasize gender-based claims, such as pregnancy discrimination and sexual harassment, although we also take other discrimination, harassment, and retaliation claims.
We understand how costly litigation is for individuals, so we advance the cost of litigation to our clients. We have the resources to properly litigate employment discrimination lawsuits from start to finish. Our firm also uses an innovative client-centered approach.
Mr. Filippatos also talked about our future and our development of a rapid-response call and Internet center in order to more effectively link potential clients with the right attorneys and educate the public on employment-related rights and privileges so that employees can better protect themselves when a dispute is brewing. We feel a duty to guide individuals who need our help, whether we are ultimately able to sue on their behalf or not.
Furthermore, Phillips & Associates is expanding on a regional basis. We recently opened offices in Manhasset on Long Island as well as Princeton, New Jersey. We are also opening a White Plains office headed by Mr. Filippatos and are expanding to Philadelphia, Pennsylvania and Stamford, Connecticut very soon.
Sexual Harassment
Sexual harassment is usually about power rather than sex. Although we usually hear about stories of women being harassed by men, someone of the same sex as the victim can perpetrate sexual harassment, and it can be perpetrated by women against men. Title VII of the Civil Rights Act of 1964, the New York State Human Rights Law, and the New York City Human Rights Law prohibit sexual harassment, but there are important differences between these laws that make it critical to consult an attorney about your particular situation.
Pregnancy Discrimination
Women should not be penalized for wanting to start or grow a family. New York City employers are forbidden from engaging in pregnancy discrimination under federal, state, and local laws. Each of these laws is slightly different. The federal Pregnancy Discrimination Act amended Title VII and forbids discrimination based on pregnancy, childbirth, or medical problems arising out of pregnancy or childbirth. The state law prohibits pregnancy discrimination too, and it requires employers to provide pregnant employees with reasonable accommodations. The greatest protections are provided under the New York City law. This law makes it illegal to fire, not hire, or not promote an employee because she is pregnant. Furthermore, reasonable accommodations must be provided for childbirth, pregnancy, or a related medical condition.
Consult Our New York Attorneys to Understand Your Legal Rights
Our firm understands how stressful and difficult it can be to face discrimination or harassment on the job. Contact Phillips & Associates at (866) 229-9441 or through our online form to find out what your next steps should be and what we can do for you. We handle employment cases in the Bronx, Queens, Brooklyn, and Manhattan, as well as throughout Westchester, Nassau, and Suffolk Counties and in New Jersey and Pennsylvania.