New York City Attorneys Experienced in Employment Litigation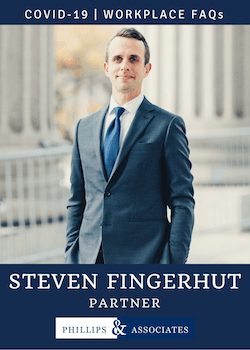 New Yorkers are supposed to stay home if they are sick during the COVID-19 pandemic. COVID-19 is most likely to spread when one person has COVID-19 and is in close contact with another person. It could be spread through droplets sprayed when someone coughs, sings, sneezes, or talks. Even those who do not have symptoms can spread the virus. Employers are supposed to institute health and safety rules. You may be wondering whether your employer is required to offer you a work from home option during the COVID-19 pandemic. You should discuss your circumstances with the experienced New York City employment attorneys at Phillips & Associates.
Does My Employer Have to Offer a Work from Home Option During the COVID-19 Pandemic?
There is no general requirement that your employer offers a work from home option, and some employers, such as essential employers, cannot. However, your employer may need to allow you to work remotely during the COVID-19 pandemic if an underlying disability or medical condition places you at high risk for the coronavirus. The New York City Human Rights Law, the New York State Human Rights Law, and the Americans with Disabilities Act (ADA) prohibit disability discrimination and require employers to provide reasonable accommodations to employees with disabilities.
Each of these laws defines a disability differently. The New York City Human Rights Law defines a disability as having any psychological, mental, medical, or physical impairment, or a record or history of such an impairment. Various systems of the body may be impaired; affected systems may include the neurological system, the cardiovascular system, the musculoskeletal system, the digestive system, or the reproductive system.
The New York State Human Rights Law defines a disability as an impairment that can be demonstrated by medically accepted techniques, even if an impairment does not substantially restrict a major life activity. Under the ADA, a disability is defined as a mental or physical impairment that substantially restricts at least one major life activity.
Reasonable Accommodations
The New York City Human Rights Law is considered one of the most protective employment discrimination laws. Employees with disabilities are entitled to reasonable accommodations, unless providing an accommodation such as allowing remote work presents an undue hardship.
Your employer needs to engage in a good-faith interactive dialogue with you about the extent of your limitations to figure out what a reasonable accommodation would be under the circumstances. Typically, your employer cannot say no to a reasonable accommodation request automatically or refuse to engage in a dialogue with you. It cannot issue ultimatums. Instead, your employer should ask you questions and figure out whether working from home would be reasonable under the circumstances.
Individuals with certain underlying health conditions are at increased risk for severe illness from COVID-19. This means that they may require intensive care, hospitalization, or a ventilator. Health conditions that increase the risk of severe illness include chronic kidney disease, COPD, cancer, sickle cell disease, type II diabetes, and heart conditions. If you have one of these conditions, you may have a very strong argument for working from home as a reasonable accommodation.
Work from Home Requirements
It is important to be aware that your employer is also forbidden from requiring you to work from home because of an actual or perceived disability, if it would result in an adverse employment action, such as a pay cut. Your employer can forbid you from traveling if travel is part of your job, but it cannot mandate that you quarantine at home at all times.
Contact Our Experienced New York City Attorneys
If your employer refuses to let you work from home during COVID-19, the experienced trial attorneys at Phillips & Associates may be able to represent you. We assist workers in Brooklyn, Manhattan, Queens, Staten Island, the Bronx, and Nassau, Suffolk, and Westchester Counties, as well as Pennsylvania, New Jersey, and Florida. Call us at (866) 229-9441 or complete our online form.