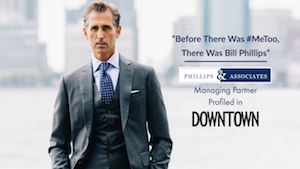 Your work is an important part of your life. Most employees go to work hoping to be judged based on the quality of their work performance, rather than their identity. There are multiple federal and state laws in place to protect employees from employment discrimination, harassment, and retaliation. Unfortunately, employers sometimes do make decisions based on bias rather than merit. Recently, Downtown Magazine published an article on Bill Phillips, who has been fighting for employees wronged by their employers for almost a decade. If you have faced employment discrimination or other forms of mistreatment, you should consult Bill Phillips and his team of New York City employment attorneys about your situation.
As our founding partner, Bill Phillips is dedicated to representing working men and women against powerful businesses of all sizes. He explained to Downtown Magazine that, other than family, there is nothing more important to people than their jobs, and losing employment is hard, but the situation is exponentially worsened if discrimination is involved.
Mr. Phillips explained that discrimination has been a reality for a long time, and he uses his skills and knowledge to fight for employees who are intimidated by their powerful employers, which are often large corporations. He explained that those in power use leverage to silence their victims, and he uses what he knows to help victims of that power get the justice to which they are entitled and give them greater control over their lives.
The magazine emphasized that Mr. Phillips has been named one of the 10 Best Labor and Employment Attorneys in New York City and that he gave up an investment banking background in order to apply what he knew to defend people who are victims of their employers. His background in I-banking gives him a greater understanding of industry and powerful employers. He has surrounded himself with people whom he believes are the best employment lawyers in the field so that clients can get representation that is tailored for their unique circumstances.
Bill Phillips altered the usual law firm model to permit people who find legal services unaffordable the opportunity to consult a lawyer. While most firms charge high upfront fees, his firm fronts the costs of litigation when it knows that there is a good case. In this way, they have won numerous verdicts and settlements. One recent win was a $2.3 million verdict for a client against the Port Authority of New York and New Jersey for racial discrimination and national origin discrimination.
The firm has gotten a lot of attention in the #MeToo era. Mr. Phillips wants to make sure that people understand that there are legal resources available to victims. He has expanded the firm to Long Island, Westchester County, Philadelphia, and New Jersey by opening offices in these locations. His hope is that his work will promote an atmosphere of mutual respect.
There are multiple federal laws that prohibit employment discrimination, and each protects different characteristics. For example, Title VII of the Civil Rights Act of 1964 prohibits discrimination on the basis of an employee's race, sex, color, national origin, or religion. The Americans with Disabilities Act (ADA) prohibits discrimination based on an employee's disability. The New York State Human Rights Law also prohibits employment discrimination based on various protected characteristics. One of the most progressive employment discrimination laws is the New York City Human Rights Law, which applies to small employers, protects a wide range of characteristics, and does not cap damages.
It is stressful to face employment discrimination based on protected characteristics, such as sex, race, national origin, color, religion, or disability. If you have been a victim of employment discrimination, Mr. Phillips and his team of skillful trial lawyers may be able to help you. Call Phillips & Associates at (866) 229-9441 or contact us through our online form to set up a free consultation. We litigate employment cases in Brooklyn, Manhattan, Queens, and the Bronx, as well as Nassau County, Suffolk County, Westchester County, New Jersey, and Pennsylvania.