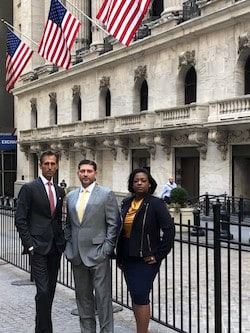 In 2018, William Phillips won Corporate International's award for Employment Discrimination Attorney of the Year in New York. Mr. Phillips is the managing partner of Phillips & Associates, which consists of New York employment attorneys who handle discrimination and harassment lawsuits, among other claims, on behalf of employees. Mr. Phillips also was chosen as a Top 100 Employment Lawyer in New York by the American Society of Legal Advocates in both 2017 and 2018. He remains a member of the Million Dollar Advocates Forum, which is a prestigious trial lawyers' group. In 2017, the firm was also chosen as one of the 10 Best Employment Law Firms in New York by the American Institute of Legal Counsel for its litigation work.
Mr. Phillips is motivated to provide vigorous representation to plaintiffs suing for employment discrimination by his observation of the disadvantage that employees face when trying to assert their rights against an employer that is typically more powerful and represented by a law firm with greater resources. The firm fights for employees' rights in the workplace without charging a retainer. Mr. Phillips maintains that he cannot in good conscience charge a retainer to people who have just lost their jobs or are at risk of losing their jobs. Instead, the firm represents clients on a contingency fee basis. This means that a client does not pay fees unless and until the firm successfully obtains a settlement or verdict on the client's behalf.
A Selection of Cases We Handle
Some of the greatest accomplishments achieved by Phillips & Associates have come in sexual harassment claims. Sexual harassment is prohibited under federal law by Title VII of the Civil Rights Act of 1964, as well as state and city laws. Sexual harassment in the workplace can take many different forms, including gestures, words, texts, emails, photographs, touching, groping, or even rape. Sometimes it is perpetrated by a supervisor or manager, but it can also be perpetrated by coworkers. When sexual harassment is perpetrated by coworkers, it is important to report it to the employer and allow the employer an opportunity to correct the problem. If the employer does not correct the problem or takes a retaliatory step, an employee may have a basis to file a charge and sue under Title VII.
In one of Phillips & Associates' notable cases, for example, one of our attorneys successfully argued a first impression coworker sexual harassment case before the United States Court of Appeals for the Second Circuit. The court expressly recognized cat's paw liability in Title VII discrimination cases. Cat's paw liability in an employment case refers to a supervisor who does not have discriminatory animus being manipulated by a worker who does have animus into taking an adverse action against the employee. When an employee reports sexual harassment to HR or follows the other grievance procedures set forth in their employment manual, the company is supposed to investigate thoroughly to figure out the truth of what happened. If the company is deceived by a harassing employee through its own negligence in carrying out an investigation, it can be held liable in the victim's sexual harassment claim. Employers are not held liable simply because they act on false information provided by the harasser, but the court will look at what motivated the employer and whether it acted negligently with regard to false or misleading information provided by the employee.
Another common type of employment claim that we handle relates to race discrimination, which is also prohibited under Title VII and under New York laws. Workplace racial discrimination occurs whenever an employer makes an adverse employment decision based on an employee's race. It can include harassment, such as the use of racial slurs or images. In a racial discrimination case handled by a Phillips & Associates attorney, Marjorie Mesidor, a federal jury determined that using the N-word in the workplace is always unacceptable, even if it is used between black coworkers. The jury awarded $250,000 in compensatory damages, as well as $30,000 in punitive damages.
Assert Your Rights by Hiring an Experienced Employment Attorney in New York City
If you are faced with discrimination or harassment in the workplace, it is crucial to retain an employment attorney who is experienced in handling these types of cases and bringing them before a jury. At Phillips & Associates, our trial attorneys help workers who have been harmed by employment discrimination, harassment, or retaliation. The importance of getting legal counsel on your side cannot be overstated when you have been subjected to mistreatment in the workplace. Call Phillips & Associates at (866) 229-9441 or use our online form to set up a free consultation to discuss your case. We handle employment litigation in the Bronx, Queens, Brooklyn, and Manhattan, as well as in Westchester, Nassau, and Suffolk Counties and in New Jersey.