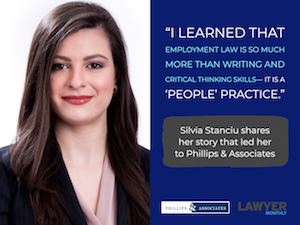 Sexual harassment at a job can take a significant emotional toll on a victim. There are two types of sexual harassment. When enduring harassment is a condition of continuing employment, the harassment is actionable. This is quid pro quo harassment, which can only be perpetrated by a supervisor or another authority figure in the workplace. When the harassing conduct is pervasive or severe enough to generate a work environment that a reasonable person would believe is abusive, hostile, or intimidating, it is actionable as hostile work environment harassment. New York City employment attorney Silvia Stanciu of Phillips & Associates recently wrote an article on her background in the legal profession and her work in sexual harassment cases for the Women in Law issue of Lawyer Monthly.
Becoming an Employment Lawyer
In her article, Ms. Stanciu wrote about how each person travels a different journey when becoming a lawyer. There are some attorneys who are motivated by recognizing that there is a wrong that they want to right, and there are other attorneys who realize that they can be successful as attorneys because they have a strong skill set in writing and critical thinking.
She discussed her own experience growing up in Europe as a daughter of two attorneys. While growing up, she was attracted to the profession because it regularly encouraged writing, reading, and defending a point of view. She believed that she would work as a lawyer in Romania, but she moved to the United States as a teenager. During law school, she perceived her classes as opportunities to consider different legal fields. Her first summer internship at an employment law firm that represented only employees shaped the rest of her career.
As a New York employment lawyer, Ms. Stanciu has handled sexual harassment and discrimination lawsuits in federal and state courts in both New Jersey and New York. Her first step in these cases is to get to the core of a client's legal claims and prepare a detailed, persuasive complaint. She has argued motions in court and has settled cases in private mediations and in court settlement conferences. During the #metoo movement, she advocated for clients across many industries.
Challenges Posed by Sexual Harassment
In the article, Ms. Stanciu explained that in each employment case, a range of obstacles, motives, and emotions must be considered. Developing strong and empathetic listening skills has allowed Ms. Stanciu to pinpoint significant facts and mitigate legal obstacles before they come up.
Ms. Stanciu explained that each of her clients has experienced internal conflicts. Complaining about sexual harassment or discrimination is not easy. Especially if they are still working at the company. Victims have been afraid to stand up for themselves at the risk of losing their livelihoods. Certain clients were afraid of exposing their lives and what had happened to them to the public process of a lawsuit. Often, she works behind the scenes before bringing a lawsuit to try to resolve a claim in a client's favor. Although she also handles wage and hour cases, she finds that representing victims of sexual harassment has been the most challenging and nuanced aspect of her employment law practice.
Ms. Stanciu explained that in New York, sexual harassment and sex discrimination victims may have a viable cause of action regardless of how large their employer is. Employers that are too small to have an HR department are not exempt from liability. Most people turn to an employment attorney because they need someone to fight for them when they face a challenging work situation. Often, an attorney is the only support system for employees who feel that they are trapped between a rock and a hard place.
Ms. Stanciu is often horrified by the harassment and discrimination that her clients have faced. When she advocates for them, she is determined to push as far as she can. She has learned that employment law is a people practice, going far beyond writing and critical thinking skills.
Get Advice From a Knowledgeable Attorney
Sexual harassment still occurs all too often in the workplace. If you have been subjected to sexual harassment, you should ask Phillips & Associates about your next steps. Call us at (866) 229-9441 or contact us through our online form. We handle litigation in Brooklyn, Manhattan, Queens, and the Bronx, as well as Westchester, Nassau, and Suffolk Counties, New Jersey, and Pennsylvania.