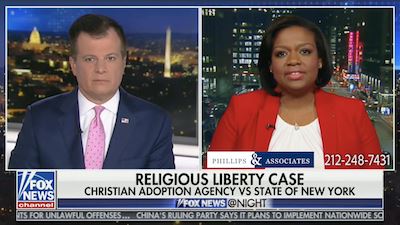 At the end of 2018, an organization that is anti-LGBTQ filed a lawsuit on behalf of New Hope Family Ministries, which is a child welfare agency licensed by the state of New York. The lawsuit focuses on the state of New York's position that the agencies that it licenses are not allowed to discriminate against prospective parents who belong to certain protected categories. New Hope processes adoptions, and it refuses to permit same-sex couples to interview to be adoptive or foster parents. The lawsuit claims that the state of New York has threatened to cut funding and will force the agency to immediately phase out its adoption program, and that this threat is a violation of the child welfare agency's rights of religion, equal protection, speech, and association. New Hope takes the position that the New York State Office of Children and Family Services singled it out as a religious nonprofit for its policy that denies same-sex and single people an opportunity to interview to adopt or adopt.
Recently, Phillips & Associates partner Marjorie Mesidor appeared on Fox News to discuss whether an adoption agency's religious beliefs should allow it to refuse to place kids with same-sex or unmarried couples.
Rights of Faith Based Agencies
The Fox interviewer asked Ms. Mesidor, "Why shouldn't it be possible for a Christian or other faith based agency to have an adoption agency of its own?" Ms. Mesidor responded that it is a clear violation of the law for a faith based organization that is doing a job that is unrelated to the practice of its religion to openly discriminate. It clearly states in the guideline that neither marital status nor sexual orientation can be taken into account. She stated that what New Hope is doing is impermissible. Refusing to allow it to discriminate in the processing of adoptions is not something that prevents the adoption agency from practicing their faith.
The Fox interviewer noted that a lot of birth mothers like to know the background of the person who will be taking the child, and some may prefer a Christian or Muslim agency. Ms. Mesidor explained that there is nothing wrong with that, and it is natural to have a preference. However, what is at issue is an adoption agency that has a written policy indicating that they will not, in any way whatsoever, process adoptions for a same-sex couple or someone who is single. That is a different situation than one in which a natural parent says that they would prefer that someone of a certain religious background adopt the child. If a parent indicates that type of preference, that is different from New Hope indicating that a single person or same-sex couple would not be able to apply, regardless of the natural parent's stated preference. Ms. Mesidor pointed out that this is distinct from a parent requesting a Christian home for a child.
New Hope Family Services has stated that New York law expressly permits birth parents to specify the religion of the adoptive family with whom their child will be placed, and many birth mothers and adoptive parents elect to work with New Hope specifically because they agree with or place value on its religious convictions. Ms. Mesidor responded that if a parent indicates a preference, that is one thing, but the agency has said that they would not allow a same-sex couple to apply or a single person to apply, regardless of the natural parent's stated preference.
Public Accommodations
Both state and city laws provide that it is unlawful for public accommodations to discriminate on the basis of membership in certain protected classes, including sexual orientation and marital status. Under the New York City Human Rights Law, a public accommodation includes providers of services, goods, facilities, accommodations, privileges, or advantages, as well as places where these are made available. An adoption agency is a type of public accommodation.
Consult an Experienced Civil Rights Attorney in New York City
If you are concerned about sexual orientation or marital status discrimination at a public accommodation in New York City, it is important to find an experienced attorney to represent you. Call Phillips & Associates at (866) 229-9441 or contact us through our online form. We handle litigation in the Bronx, Queens, Brooklyn, Manhattan, Long Island, Westchester County, New Jersey, and Pennsylvania.