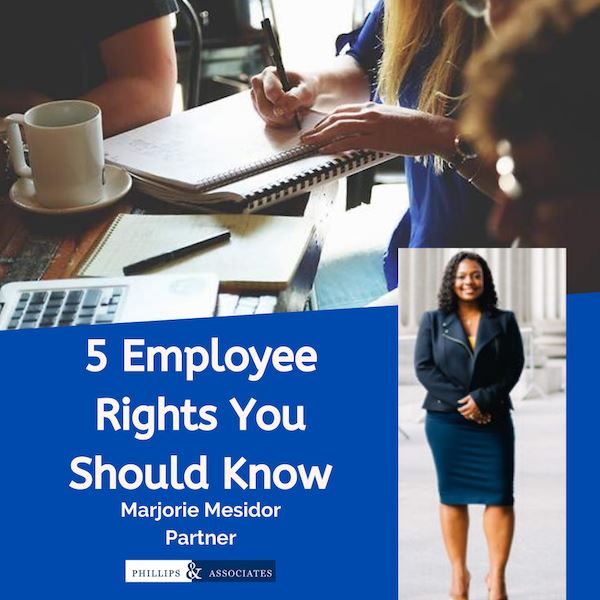 An employer may not tell you your rights when you are hired. Some of your rights may be set forth in the employment handbook. However, in many situations, employees may not think about what is acceptable in the workplace until they encounter a problem. Phillips & Associates partner Marjorie Mesidor is a New York employment lawyer who recently discussed five essential employee rights with Newswire.
These are the five employee rights that Ms. Mesidor highlighted: (1) the right to equal pay for equal work, (2) the right against discrimination and harassment, (3) the right to sick leave, (4) the right to confidentiality, and (5) the right to be paid promptly. If your rights are violated, you may have certain remedies under the law, and you should consult our attorneys to determine whether a lawsuit may be viable.
Right to Equal Pay for Equal Work
If your coworker and you have the same job title and work for the same number of hours, and you deliver the same amount of work and began working in a certain position around the same time, it can be upsetting to find that the coworker earns more than you do. Sometimes workers share a workstation, yet they still receive unequal payment. You are entitled to ask your manager for an explanation of why you are being paid less. Sometimes it is possible to sue your employer for not paying you an equal salary for equal work.
Right Against Discrimination and Harassment
You are entitled to work in a place that is free from discrimination or harassment based on protected aspects of your identity. Protected characteristics include sex, national origin, race, color, age, disability, genetic information, and sexual orientation, among others. If your colleague has been hitting on you or sending you obscene texts, you are entitled to not be sexually harassed on the job. Phillips & Associates is a leading law firm in the fight against workplace sexual harassment. It is important to speak to an attorney if you believe that you have been affected by discrimination or harassment on the job.
Right to Sick Leave
Many employers do not permit their employees to take sick leave during a probationary period. Sometimes, however, sick leave is necessary. You may be seriously ill or even bedridden. You may not have any way to go to work in your condition. If your employer threatens to fire you if you do not come to work, you should discuss your situation with a discrimination lawyer.
Right to Confidentiality
Employees are entitled to keep their medical information and genetic information private and confidential from their coworkers and others. Under certain circumstances, you may need to disclose the details of a medical condition to an employer. For example, you may need to disclose certain information to get a reasonable accommodation for a disability. However, your employer is required to keep the information that you reveal confidential from your officemates. You can exercise your right to confidentiality on the job.
Right to Prompt Payment
Your employer is required to pay you promptly. Your pay should be received by you as soon after the most recent pay period as possible, and it needs to be in the form of a check or cash. Your employer cannot withhold your payment, and you should not be forced to send back any of your wages. Generally, employers are supposed to pay overtime to employees who are entitled to overtime on the same day that they receive their regular paycheck. Consult an Experienced New York City Attorney
Federal, state, and local laws protect you from discrimination and harassment, along with other violations of your workplace rights. For example, you are protected against sexual harassment under Title VII of the Civil Rights Act of 1964, the New York State Human Rights Law, and the New York City Human Rights Law. Ms. Mesidor and the other employment attorneys at Phillips & Associates may be able to represent you if your rights were violated by your employer. We have fought for workers in many different kinds of lawsuits. We represent employees in Brooklyn, Queens, the Bronx, Manhattan, and Staten Island, and in Suffolk, Nassau, and Westchester Counties. We also represent employees in New Jersey and Pennsylvania. Call us at (866) 229-9441 or contact us through our online form.