Employment Lawyers Advocating for Workplace Rights in New York City and Beyond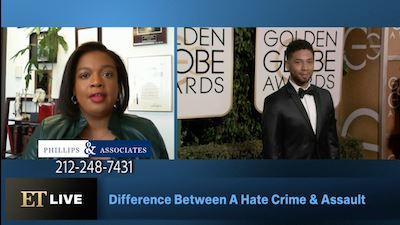 Recently, there has been an increase in reports of hate crimes based on a victim's race. Jussie Smollett, who acts on "Empire," was recently victimized in a racist and homophobic attack in an Illinois city. Two masked men shouted racist slurs and the words "MAGA country," among other things. A noose was placed around his neck, and a substance was poured on him. There is an ongoing investigation into this episode as a hate crime. Recently, Phillips & Associates partner Marjorie Mesidor spoke to a reporter about hate crimes and race discrimination. If you were a victim of a hate crime or other racial harassment on the job, you should speak to the knowledgeable New York City race discrimination lawyers at Phillips & Associates about whether you have a claim for damages.
When is it a Hate Crime Rather than Simple Assault?
Ms. Mesidor talked to a reporter about why the attack on Jussie Smollett may have been a hate crime instead of just assault. The attack on Smollett has not yet been classified as a hate crime based on race. The reporter said that the police let them know that the episode was being investigated as a potential hate crime but had not been so categorized. The reporter asked Ms. Mesidor how assault and a hate crime are distinguished.
Unlike a regular assault, according to Ms. Mesidor, a hate crime may occur when a perpetrator harms a victim or intends to harm a victim because of the victim's perceived or actual protected characteristics, such as his or her race. Hate crimes are class 4 felonies in Illinois.
Was the Attack on Smollett a Hate Crime?
Ms. Mesidor told the reporter that the attack on Smollett meets the criteria for a hate crime. Generally, perpetrators do not state their motivation for an attack as they are committing it. However, you can draw inferences from the circumstances and other statements and actions of the perpetrator. For example, the Smollett attack featured a noose and racial slurs, and it is possible to infer from this evidence that the attack was motivated at least partly by the victim's race.
Hate crimes are deeply underreported. In 2016, 6,000 hate crimes were reported to the FBI, but 250,000 hate crimes occurred. Ms. Mesidor noted that local police may not be trained in the differences between hate crimes and ordinary crimes. Moreover, some victims are reluctant to come forward.
Hate crimes, including their discriminatory intent, must be proven beyond a reasonable doubt, which is a very high standard. If a prosecutor is trying to show that there was a hate crime based on race, the prosecution will need to establish that the crime happened at least partly because of the victim's race.
Employment Lawsuits Based on Hate Crimes
Sometimes hate crimes occur in the workplace. If a hate crime based on race discrimination happens on the job, it may constitute harassment. Racial harassment can include gestures like placing a noose on an employee's desk or using racial slurs. As with hate crimes, it can be challenging to show that misconduct in the workplace was motivated by a victim's race.
However, some of the same tactics used to prove a hate crime may be used to prove racial harassment. The words or actions of the perpetrator may be such that intent can be inferred. When racial harassment is so severe or pervasive that it alters the terms and conditions of employment, it may be actionable. Civil lawsuits have a lower burden of proof than do criminal cases.
In New York City, damages for race discrimination in a civil lawsuit can include lost pay, emotional distress, and, in cases of egregious misconduct, punitive damages. Federal, state, and local laws have various nuances, and it is important to consult an attorney if you believe that you were targeted due to your race.
Consult an Experienced Race Discrimination Lawyer in New York City
If you have been subject to hate crimes and race discrimination in your workplace, you should consult the skillful employment attorneys at Phillips & Associates. Call Phillips & Associates at (866) 229-9441 or contact us via our online form. We handle employment litigation in the Bronx, Queens, Brooklyn, Manhattan, Westchester County, Long Island, New Jersey, and Pennsylvania.